Luuna is the first intelligent sleep mask that is tailored to your sleep schedule.
Luuna intelligently learns from your brain waves to produce music and sounds that are in harmony with your body's rhythm to help you fall asleep better and faster. Basically, the music is comp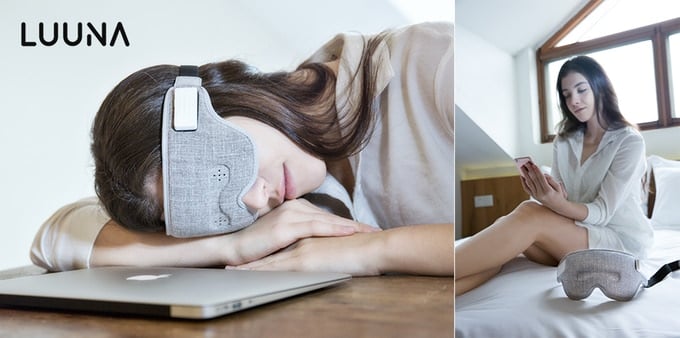 This is the Luuna intelligent sleep mask. (Source: Kickstarter/Luuna)osed by your brainwaves and will reflect how you're feeling.
An electroencephalogram (EEG) is a test that detects electrical activity in your brain using small, flat metal discs (electrodes). Luuna uses EEG to get an accurate reading on your sleep cycles, monitor and collect brainwave information and then send it to the Luuna computer chip. The chip analyzes the brainwave data and produces music that is tailored to what your sleep state is. There are also two "peep" holes so you can see through the mask without having to take it completely off.
There are three sleep modes to choose from:
· Sleep: Choose the sleep mode on the Luuna app to get you ready for a full night of sleep. Luuna's artificial intelligence plays calming music as you doze off into a sleep.
· Power nap: Luuna's app features a power nap mode just in case you only need a few short minutes to recharge your mind, energy, and help you boost your brain's learning capacity.
· Concentration: Concentration training is much like weightlifting for your brain. This mode helps you master the ability to focus for longer periods of time.
With LUUNA you can choose between three music options:
· Brainwave sounds: Soft yet powerful music, enlightening your imagination as you venture off into the dream world.
· Pink Noise: Balanced sounds of nature to help you get a deeper sleep and maintain your robust memory.
· Personalized Music: Relax and drift into a restful sleep with your own playlist.
Luuna uses your brain's melody and intelligent AI to create a song to fit your mood in the brainwave sounds mode. When you do fall asleep, Luuna lowers the volume and fades out the music, replacing it with the gentle sounds of nature to maintain sleep.
Due to the EEG readings, Luuna knows when you're in your deepest sleep and waits to wake you up until you are in your lightest sleep. This keeps you from experiencing post-nap fog. The Luuna app offers daily, weekly and monthly reports to show your sleep cycles and other data to understand your sleep better.
Luuna gives you up to 80 hours of battery and is only 50g in weight. It has special pinholes that you can peep through at any time. The 3D mask was specially designed to fit the contour of your face with skin-friendly fabric.
If you're a sleep talker, you can use Luuna to record yourself while you are sleeping to see what you are saying!
Luuna comes with two alarm modes. You can choose the exact time you want to wake up, or sleep in on the weekends and choose a time range to wake.
Luuna is currently on Kickstarter. They have gone beyond their goal of $25,217, and have raised $45,088 so far, with 13 days left on the campaign.