AVX Corporation, a manufacturer and supplier of advanced electronic components and interconnect, sensor, control and antenna solutions, has released the new T4Z Medical Series HRC4000 medical-grade tantalum capacitors. These are designed to replace commercial capacitors in the filtering, hold-up and charging circuits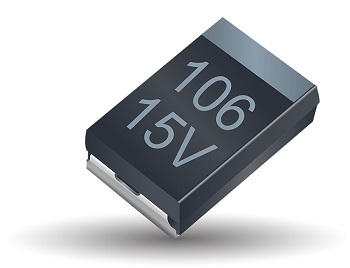 Source: AVX Corporationof non-critical medical devices that require high-reliability and strict change control, including implantable, non-life-sustaining devices, such as heart monitors, neurostimulators, insulin pumps and temporary cardiac monitors; external, life-sustaining devices, such as automated external defibrillators and external heart pump controllers; and external non-life-sustaining devices, including patient monitoring and diagnostic equipment.
The T4Z Medical Series solid tantalum capacitors are based on a MIL-PRF-55365 product line with more than 25 years of proven high-reliability performance in the medical industry. To ensure consistent, high-reliability performance, the series is manufactured at AVX's ISO-13485-certified plant in Biddeford, Maine, using strict manufacturing control, statistical screening and testing procedures compliant with FDA regulations for medical devices.
T4Z Medical Series capacitors offer the lowest DC leakage values in the market, 0.01CV standard, with custom potential down to 0.005CV — or half that of typical industry limits — enabling longer lifetime performance and improved reliability compared to commercial tantalum capacitors. They are currently available in eight compact, lightweight case sizes ranging from 2.54 by 1.27 by 1.27 mm, ±0.38 mm and 0.016 g to 7.24 by 3.81 by 2.79, ±0.38mm and 0.335 g, with solder-plated, solder-fused, gold-plated or 100% tin terminations. They offer capacitance values extending from 0.1 to 33 0μF, eight standard voltage ratings spanning 4 to50 V, and rated operating temperatures extending from -55 to +125° C. Custom DCL and ESR values are available upon request.
The T4Z Medical Series utilizes the industry-leading design for molded tantalum capacitors intended for use in high-reliability medical devices, which is conservative, robust and strictly change-controlled to ensure continuity. They are manufactured using Weibull reliability grading, which subjects each batch to accelerated burn-in to provide a calculated failure rate, military-style screening and conformance testing. This ensures consistent, high-reliability part performance and process control, which ensures a stable, normalized leakage distribution. In addition, each lot is subjected to sample function testing, which simulates the manufacturing environment to further ensure exceptional part performance. As a result, T4Z Medical Series capacitors deliver basic reliability better than 0.1% per 1,000 hours with a 90 percent confidence level.
T4Z Medical Series capacitors can be shipped in bulk, 7 in. tape and reel or waffle packaging, and are not subject to the long lead-times common to the commodity tantalum market, instead offering short, consistently stable lead-times that extend to a maximum of eight weeks.