Researchers are taking 3D printing analyzation one step further by combining a robotic arm and mass spectrometry. By doing this, the researchers have been able to analyze a 3D-printed object's surface that may be irregular. This new development could be huge for forensics and pharmaceutics.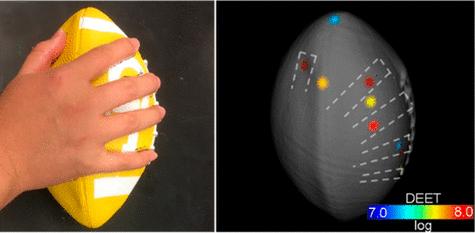 By combining a robotic arm and mass spectrometry, researchers can analyze the surface of 3D objects, such as footballs. Source: American Chemical Society
Mass spectrometry (MS) helps researchers identify components of a sample in medical or forensics fields. This instrument has been tested outside the laboratory in drug screening and crime scene analyzing.
This technique has a lot of development that still needs to happen before it is deployed regularly. The system can't examine large, bulky or curved objects without needing human help. Facundo M. Fernandez, lead researcher and developer of the new system, and his team have operated a proof-of-concept 3D infrared camera that can direct a robotic arm for collecting samples of plasma ionization for MS analysis. But the team found that the system could only detect and study certain kinds of molecules. Moving forward the team wants to expand direct surface sampling of irregular 3D printed shapes.
The newest method developed is called robotic surface analysis MS (RoSA-MS). The team attached a custom-built laser scanner to a force-sensing robotic arm. This new system was able to sample irregular 3D-printed shapes. The laser scanner scans an object and created a digital map of a sample's surface. The scan directed a spring-loaded sampling probe that is on the arm to certain locations in the area. The probe contacted the object's surface to collect data about the surface. The arm then puts the probe in an electrospray ionization mass spectrometer. The data is analyzed and sent to the human researchers.
The new probe could be used in many different industries and locations. The team has so far used RoSA-MS to detect caffeine in a coffee cup. The paper on this research was published in Analytical Chemistry.