GL Communications Inc., announces its latest software solution with applications to lawful interception, data retention, fraud detection and voice quality.
Protocol analysis probes are deployed in the network to non-intrusively monitor and capture the bi-directional calls on the network. These probes are available for all networks — IP, wireless, optical, TDM and PSTN.
Packet data analyzers (PDAs) work with probes to generate call detail records (CDRs), record voice/video/fax/tones/digits on the established calls and perform analysis on captured data quality. PDA processes the captured packets/frames, identifies and segregates calls based on signaling and traffic parameters. Sophisticated filters permit zooming and recording of specific calls of interest, and all or filtered traffic can be recorded into a trace file.
According to Jagdish Vadalia, senior manager for product development, "Users can listen or record audio and data of a VoIP session calls in real-time. And can also perform speech-level analysis, fax analysis, video analysis, power, frequency, spectral, tone and digit analysis with ease and precision. The process helps users to get an exact picture of quality of service (QOS) and the technical adherence of the system under test (adherence to the protocols specified by the standardizing authority)."
Signaling and Traffic Analysis software and hardware have been widely used by network operators and carriers to troubleshoot poor call quality problems, or as modules or tools in "larger lawful intercept" solutions, to detect fraudulent calls, for traffic engineering, for call analysis and for billing. These tools can detect, classify and selectively capture "calls-of-interest" from massive volume of calls.
Important Features
•Scalable architecture allows up to STM-4 rate per server and multiple servers can be stacked to increase call capturing capacity to 10's of thousands of calls
•Signaling decode information on each call, including ladder diagrams
•Detect call types (voice, SMS, fax, video, …)
•Store CDRs in database/ CSV file formats
•Automatically record voice traffic for all calls or filtered calls
•Continuous unlimited recording, limited only by hard disk or network storage space
•Capture/playback audio – listen and record audio streams
•Ability to store voice in PCM or WAV formats
•Drill-down to problem calls using filters for post analysis
•Analyze and identify customer calling patterns
•Capture for extended periods of time from hours to months
•Search for "calls of interest" while live capturing continues
•Filter calls based on called number, calling number, or type of call
•Monitor daily operations thru call statistics
•Monitor usage of trunks on a daily or weekly basis
•Provide insight into overall performance
Applications
•Post-call analysis for call quality, called / calling numbers, mid call digits
•Calls of interest, fax calls, SMS calls, selective calls
•Traffic engineering
•Voice quality analysis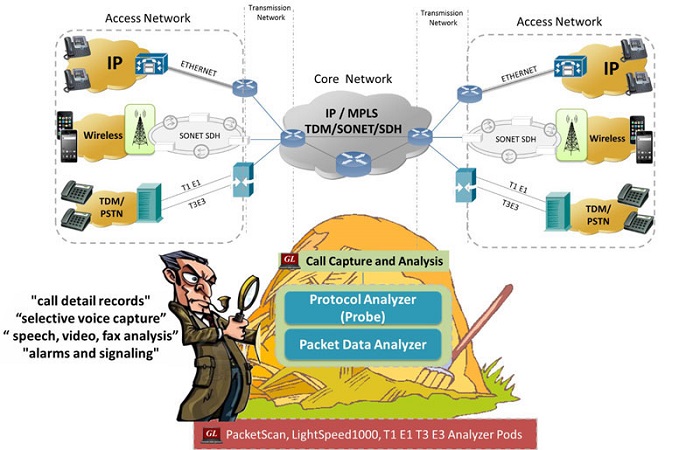 Source: GL Communications Inc.