AMETEK Programmable Power, a global provider of programmable AC and DC power test solutions, has introduced the Sorensen™ SGX Series with touchscreen display. This new feature makes the Sorensen SG family of programmable DC power supplies even easier to use.
The SGX Series is the next generation of the successful SG line of programmable DC power supplies. The line is designed for exceptional load transient response, very low noise and high-power density. The SGX Series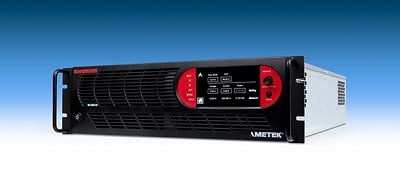 Source: AMETEK Programmable Powercombines onboard intelligent controls with the outstanding power electronics common to all SG family supplies. These controls enable sophisticated sequencing, constant power mode and save/recall of instrument settings. Additionally, looping of sequences makes the SGX ideal for repetitive testing.
Users can quickly and expertly control the DC supply with the intuitive touch screen display. The touch screen function group icons include a dashboard, output programming parameters, measurements, sequencing, configuration, control interfaces, applications and system settings. Function selection and parameter entry can be achieved either by direct selection from the touch screen or by using the encoder selector button. The control resolution is adjusted by a dynamic rate change algorithm that combines the benefits of precise control over small parameter changes with quick sweeps through the entire range.
The popular Sorensen SG product family, now at 96 models, is one of the industry's largest DC power supply families. The SGX product line complies with all EMI and EMC safety requirements as well as EU RoHS compliance.
The SGX Series offers test system builders a variety of features and options designed to simplify system configuration and testing processes:
· Up to 15 kW in 3U and 30 kW in 6U: 3U SGX supplies are available with maximum power output levels of 4 kW to 15 kW; 6U SGX supplies are available with maximum power output levels of 20 kW to 30 kW.
· Easily parallel chassis for up to 150 kW: Up to five units can be operated in parallel to provide additional current output.
· Intuitive touch screen display: Complete control of the power supply at your fingertips lets you be an expert from the first use.
· Automatic crossover from constant voltage to constant current operation.
· Fast load transient response: The supply recovers within 1ms to ±0.75 percent of full-scale of steady state output for a 50 percent to 100 percent or 100 percent to 50 percent load.
· Power factor >0.9 typical: Power factor correction (PFC) comes standard in 10 V, 15 V, 20 V, 30 V, 50 V and 1000 V models. PFC is available as an option in all other models.
· Standard RS232 and LXI Ethernet, with optional IEEE-488.2 GPIB and isolated analog I/O interfaces available.
· Blank panel (no display) versions available for slave units: Protects ATE from manual or accidental parameter changes.
Applications for the SGX Series are wide ranging and include rack-mount ATE, product validation, process control, burn-in, materials research, battery charging, water treatment, electrolysis, accelerator magnet drive and power electronics testing, among others.
Additional Information
For more information on the SGX Series or any of AMETEK's programmable power supplies and programmable loads, contact an authorized AMETEK Programmable Power sales representative by visiting programmablepower.com/contact.
AMETEK Programmable Power also can be contacted directly toll free at 800-733-5427 or 858-450-0085 or at sales.ppd@ametek.com.