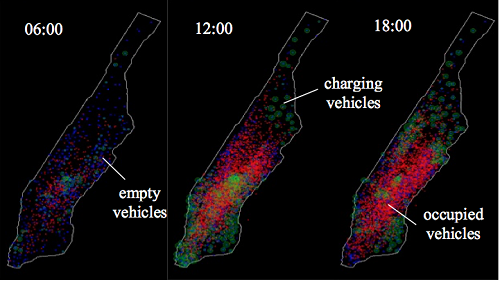 A model analyzing taxi trips provided by shared automated electric vehicles in Manhattan; blue represents an empty vehicle, green is charging, and red is occupied. Source: Berkeley Lab and UC Berkeley There are a number of companies bidding to deliver a new type of ride hailing service using autonomous vehicles including Waymo with its planned nation-wide service, BMW and Daimler with their new combined services, the Nissan-Renault-Mitsubishi alliance, current ride-hailing companies Lyft and Uber, albeit the company is in turmoil after a fatality, and many more.
All of these companies may be on the right track, according to new analysis from researchers at Department of Energy's Lawrence Berkeley National Laboratory (Berkeley Lab) and UC Berkeley that have examined the cost, energy and environmental impacts of a fleet of self-driving electric vehicles operating in Manhattan, New York.
The researchers used models they built and data from more 10 million taxi trips in New York City. The team found that shared automated electric vehicles could do the job of current taxis but at the same time reduce greenhouse gas emissions and energy consumption.
Furthermore, so-called range anxiety is non-starter because smaller taxis with smaller battery ranges were sufficient to complete the taxi trip. Although the researchers note that more charging stations will be needed.
"The [electric vehicle] industry is focusing on the personal car market, trying to make the range as large as possible," says Jeffery Greenblatt, a researcher at Berkeley Lab. "The standard now is 200 miles. We suspected you wouldn't need as much for taxis. We found plenty of times during the day when a portion of taxis could slip off to recharge, even if just for a few minutes. This greatly reduces the need to have a big battery and therefore drives down cost. It is dependent on having a fairly dense charging network."
The Model
Researchers created a model to simulate the movement of 7,000 taxis around Manhattan throughout the day. This model includes the cost of service and optimal placement of vehicle chargers. They found that costs would be lowest with a battery range of 50 to 90 miles and with 66 slower Level 2 chargers per square mile or 44 faster Level 2 chargers per square mile.
Currently, Manhattan has about 500 chargers for public use and researchers believe the city would need to least triple that capacity.
The model estimates that a fleet of self-driving electric vehicles drawing power from the current New York City power grid would reduce greenhouse gas emissions by 73 percent and energy consumption by 58 percent compared to conventional automated gas-powered vehicles.
While there are still many barriers to this becoming a reality, the researchers equate this transformation in transportation to be akin to how quickly the lighting industry and consumers switched from incandescent to LED bulbs.
"For a long time, personal transportation seemed like the hardest problem to solve," says Brian Gerke, a researcher at Berkeley Lab. "Now suddenly it seems like there's an obvious path to achieving it, which is the electrification of vehicles coupled with changing the way we get around from private vehicle ownership to shared approaches. Shared approaches are starting to work in urban areas."
The full research can be found in the journal Environmental Science & Technology.