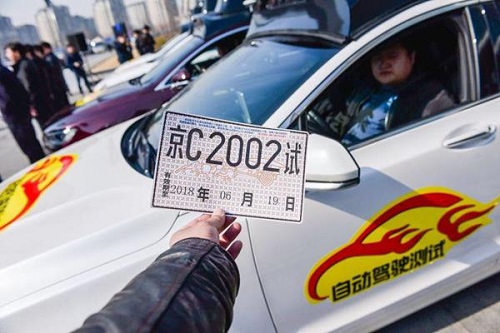 Baidu has received the first licenses to test autonomous vehicles in Beijing. Source: BaiduDespite fallout across the automotive industry as the result of the recent death involving an Uber autonomous vehicle, testing will continue in at least China, as internet search giant Baidu Inc. has received the first batch of licenses to conduct open road tests in Beijing.
During the announcement of the new licenses, Baidu took five cars powered by Apollo — the company's open autonomous driving platform — on public road tests with the new permits in Yizhuang, in the Daxing district in the southeast suburbs of Beijing.
"Baidu is committed to building a sustainable, innovative and open autonomous driving ecosystem," says Zhao Cheng, vice president of Baidu, in a statement. "We hope to work with more partners to pave the way for the full development of autonomous driving, and to build a truly reliable and safe ecosystem for intelligent mobility. With supportive policies, we believe that Beijing will become a rising hub for the autonomous driving industry."
Prior to applying to receive a license to test self-driving cars on public streets, vehicles must undergo more than 3,000 miles of closed course training as well as capability evaluations such as following traffic rules and handling emergencies. Drivers that accompany the autonomous vehicles are required to undergo no less than 50 hours of training in order to engage and take control of the vehicle in case of a problem.
The vehicles must also pass evaluations by a group of transportation, automobile, computer science and legal experts before approval. Currently, Baidu is the only company in China to receive such permits.
Public roads open for testing include 33 roads spanning about 65 miles located in less-populated areas outside of Beijing's Fifth Ring Road in Shunyi, Haidan and Yizhuang.
Baidu says the vehicles will be put through a variety of simulation testing and closed road testing before the vehicles will be allowed on public roads in order to ensure the safety and stability of the cars.