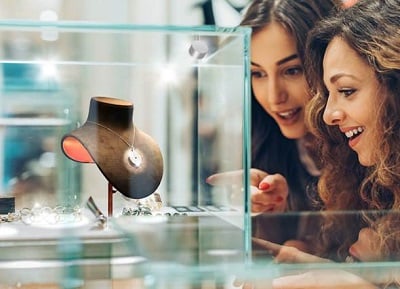 The Pure 1010 LED is designed for retail markets such as jewelry displays. Source: Osram OptoOsram Opto Semiconductors has introduced at this week's Light+Building conference being held in Frankfurt, Germany, a prototype light emitting diode (LED) that has a luminous flux of 100 lm at 350 mA and a color temperature of 3,000 K.
The Pure 1010 light emitting diode (LED) is designed to work in retail lighting, where compact LEDs with high light output show products better in a display. This includes retail outlets such as jewelry stores where showing diamond rings and other jewelry in good lighting enhances the presentation. While a prototype currently, Osram says it will be available in May for retailers.
The Pure 1010 LED comes without a primary lens and has a reduction in height thanks to the CSP. The light-emitting surface is contracted within the component itself without the need for bond wires. These allow multiple LEDs to be placed very close together in a narrow space. The LEDs can be proportioned in either warm white and cold white LEDs to meet specific requirements.
If an application calls for concentrating spotlighting, customers can add secondary optics and because the Pure 1010 LED's small dimensions and directional emission allows for secondary optics to be incredibly small reducing space and cost.