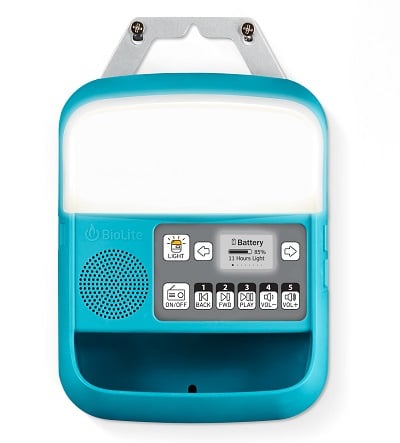 The SolarHome 620 lighting and charging kit. Source: BioLite
BioLite has introduced a new solar lighting and charging kit that can allow any off-grid structure to be turned into an area with electricity.
The SolarHome 620 is a self-contained system that can be used for preppers who want to power off-grid structures; campers looking to bring power to a campsite; and homeowners who want an easy way to power sheds, barns or greenhouses or for use in an unexpected power outage.
The kit contains a six-wall panel, three daisy chaining lights and a multi-function control box. The kit can power multiple rooms with illumination, power entertainment systems and provide security in otherwise dark areas.
The system is already in use in more than 40,000 households across sub-Saharan Africa, providing a way to receive renewable power as an alternative to using kerosene.
The internal 20Wh battery takes about seven hours to charge in the sunlight and features an LCD display for real-time feedback on sun strength and battery life. The device also has a speaker with which you can tune into FM radio or use a micro SD card with your own library. The device is able to charge smartphones and other devices through two USB ports and an integrated wall light offers 100 lumens of illumination.
The light control allows for multiple rooms to be illuminated or define areas of space with three daisy-chaining hanging lights. The third hanging light can sense passersby for added security or a quick hit of path-finding with 30 second bursts of light.
The SolarHome is available for purchase now priced at $149.