Picking papayas may seem like a simple task on the surface -- if the peel is yellow it is time to pick, and if the peel is green it is still growing. While on a very basic level this is true, papayas are much more finicky than that.
"Yellow peel doesn't always mean the fruit is ripe in the sense that its compounds have been completely converted into sugar, so that it's sweet and soft to the palate," said Douglas Fernandes Barbin, an investigator at the University of Campinas's School of Food Engineering (FEA-UNICAMP) in São Paulo State, Brazil. "Sometimes the peel is partly yellow and partly green."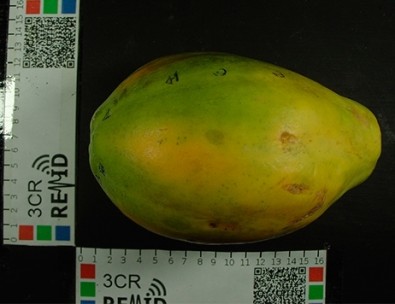 Brazilian researchers develop a system that analyzes agricultural products to identify different stages in fruit ripening. (Source: FEA-UNICAMP)
These particular ways of papaya make picking them at just the right time difficult and time-consuming. Barbin believes that the development of a mechanical harvesting method with a reliable automated method that can detect the ripeness of a papaya can be a huge help for farmers.
"The idea is to automate harvesting using non-invasive imaging technologies such as computer-aided analysis of digital images in visible light as well as infrared," said Barbin.
The team, led by Sylvio Barbon Jr. from Lodrina State University (UEL) in Parana, researched the used of portable sensors that have the ability to illuminate and analyze papayas on a tree. This device emits a luminous signal reflected by the fruit and captured for spectral analysis.
The electromagnetic spectrum is made of all electromagnetic radiations from highly energetic and dangerous to inoffensive. For example, visible light, the light humans can see is a small part of the spectrum, while infrared light, which is not visible to humans but many animals can see, is a different part of the spectrum.
"In the case of papayas, the infrared portion of the spectrum supplies important information about the biochemical stage of fruit maturation," Barbin explained.
Infrared light can be used to supplement data from digital images. This could enhance Barbin's papaya picking method.
To research this, the team bought golden papayas from a Campinas retail market and weighed and measured them. The peel color information was gathered using a colorimeter and the team gathered other properties about the papaya like pulp firmness, pH, soluble solids, total carotenoids and ascorbic acid content. The papayas were then separated into three groups by their maturity stages (MSs) determined by pulp firmness. The team used a texture analyzer to measure compression force (N) to determine this.
The firmest flesh with a measurement higher than 33 N was put in the MS1 category, the ones with pulp firmness between 33 N and 20 N were classified as MS2 and the ones with less than 20 N – the ones that are ready to eat – were classified as MS3.
"The device used to acquire data on fruit characteristics was a compact digital imaging camera positioned in a structure designed to provide suitable lighting and optimal representation of the fruit's surface," Barbin explained.
Two images of each papaya were recorded. The images were digitally processed and separated into three color channels (red, green and blue) and evaluation in hue, saturation, lightness and feature extraction.
"In the digital images for each sample, we explored several color spaces to represent it with the aim of obtaining a better performance during fruit classification," Barbin said. "The color spaces that we studied included RGB, HSV, CIELAB and their mean values on the surfaces analyzed as descriptive attributes."
These features were given to an algorithm called a random forest decision tree that modeled the fruit ripeness classification system.
"We compared these predictions with the previous mechanically obtained values and found an accuracy rate of up to 94.7 percent," Barbin said.
Farmers and growers in Brazil are excited by the idea of mechanizing the papaya harvest. It would help them so much from saving time to saving papayas that aren't ready from being accidentally picked.
"Less-ripe fruit could be selected for export, and mature papayas could be shipped to markets closer to the farm, such as cities in the Northeast," he said.
The next step is to adapt the sensor to a portable device that farmers can use in the plantation to point the luminous signal directly onto the papayas.
The paper on this research was published in Electronics in Agriculture.