Yet another self-driving startup company has made its debut, this time at the 88th Geneva International Motor Show. Design company Icona has unveiled its autonomous driving concept vehicle, called the Icona Nucleus.
The concept vehicle will be equipped with Level 5 fully autonomous functions requiring no driver, no steering wheel or no dashboard. Icona says its vision of the future is one where a larger number of shared, self-driving, electric vehicles will serve as individual or small group shuttles between mass mobility infrastructure and large hub destinations.
The vehicle looks like something out of a science fiction movie or novel with semi-transparent body color panels that allow the occupants to see out from the vehicle, but at the same time have privacy. The roof is asymmetrical and is divided into fully transparent and semi-transparent glass.
The body is shaped like a protective bubble with one large entry with a main sliding door and oyster roof opening to allow passengers to walk inside.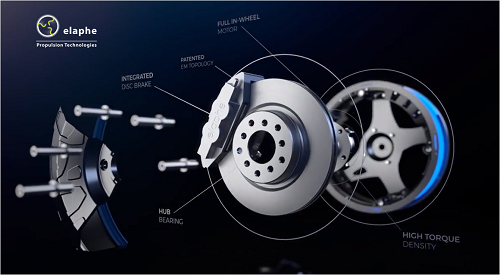 The Elaphe in-wheel motor technology included in the Icona Nucleus concept car. Source: ElapheInside the vehicle, the Nucleus can seat six people with seats that are adjustable and rotate to either rear or front facing. The car also includes a small table and necessary space and connections for a laptop. There are even options for a wet bar, because if you aren't driving, you might as well be drinking.
The concept vehicle will have range of about 745 miles with acceleration to more than 60 miles per hour in 3.5 seconds. Icona did not have any details about when the vehicle would be in production or if this would be an actual production-level car more than just a concept.
Part of the concept is the use of European tire vendor Elaphe's in-wheel motor technology for its electric powertrain. Each Elaphe tire produces a 1,500 Nm peak torque and delivering 110 kW of maximum power to each wheel. The four Elaphe wheels on the Nucleus provide a total of 440 kW of wheel power.