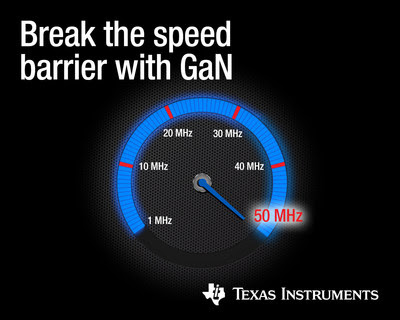 The devices enable five times smaller solutions compared to MOSFETs. Source: Texas Instruments
Texas Instruments has expanded its gallium nitride (GaN) power IC portfolio with two new high-speed field-effect transistor (FET) drivers for speed critical applications such as light detection and ranging (LiDAR) and 5G radio-frequency (RF) envelope tracking.
The LMG1020 and LMG1210 deliver switching frequencies of 50 MHz with improved efficiency and enabling five times smaller solution sizes compared with silicon MOSFETs. The LMG1210 is a half-bridge designed for GaN FETs up to 200 volts. The device has an adjustable dead time control feature that improves efficiency by as much as 5 percent in high-speed DC/DC converters, motor drives, Class-D audio amplifiers as well as power-conversion applications.
Both devices feature ultra-fast propagation delay that TI claims is 50 times faster than with silicon drivers. The dead time control in the LMG1210 allows for reduced component count and higher efficiency, enabling designers to reduce power-supply size by as much as 80 percent.
The devices are currently sampling with the LMG1020 priced at $1.79 in 1,000 unit quantities while the LMG1210 is priced at $2.19 in 1,000 unit quantities.
TI is showing off its GaN portfolio at this week's 2018 Applied Power Electronics Conference taking place in San Antonio, Texas.