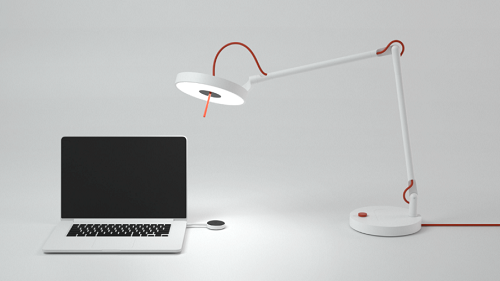 The MyLiFi LED lamp offers wireless internet at the speed of light. Source: Oledcomm
Oledcomm has added chatbot function to its MyLiFi wireless internet connected light emitting diode (LED) lamp at the 2018 Mobile World Congress.
The MyLiFi lamp allows mobile devices to connect to each other by using LED lights and transmits data by modulating the light signals from an LED light bulb. Light signals are received and converted into data by a dongle connected to computers or tablets equipped with USB-A or USB-C cables.
The Chatbot works with Google Home currently but the company says it will port it to Alexa as well as Facebook soon. The Chatbot allows consumers to turn on, turn off the lamp, set up schedules and wake up timers as well as set the color temperature (from cool white to hot orange) and the light intensity of the lamp, Oledcomm says.
Consumers can remotely create the ambiance by using commands on the MyLiFi Chatbot app or voice control by saying "OK Google, Talk to MyLiFI" to open the app and personalize the lamp.
To remotely create the ambiance that they prefer, users can use either written commands on the MyLiFi Chatbot app, or voice control, by using the activation "Ok Google", then, "Talk to MyLiFi" to open the app and personalize it in seconds.
Mobile World Congress is taking place this week in Barcelona.