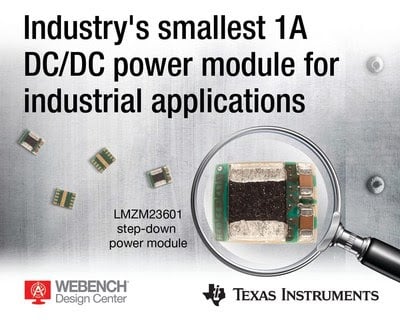 The LMZM23601 power module. Source: TITexas Instruments has introduced two new 4 V and 46 V DC/DC step-down power modules that require only two external components for operation.
The company plans to demonstrate the LMZM23600 and LMZM23601 converters at the upcoming 2018 Applied Power Electronics Conference (APEC). The devices achieve up to 92 percent efficiency, which helps minimize energy loss, and comes in a tiny MicroSIP package that shrinks board space up to 58 percent.
The converters are targeted at space-constrained communication and industrial designs such as field transmitters, ultrasound scanners and network security cameras. The devices are offered with either fixed 5 V or 3.3 V output voltages or with external synchronizations and adjustable 2.5 V and 15 V output voltages.
The 1-A LMZM23601 module is in prototype sampling.
The 2018 APEC conference will take place March 6 through 8 in San Antonio, Texas.