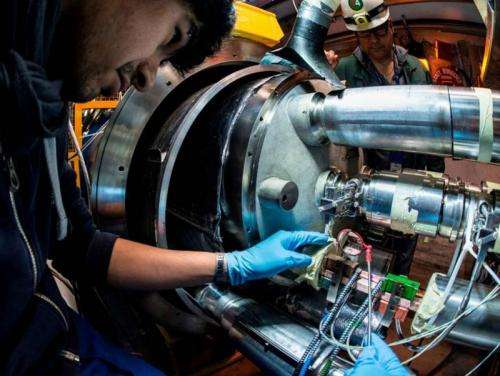 Figure 1. An engineer uses a small mirror to inspect a shunt on an interconnection between superconducting magnets on the Large Hadron Collider. Source: Maximilien Brice/CERNEvery electrical and electronic connector contains contacts. Electrical contacts, connectors and connections are very important components in assuring performance and safety. If an electrical contact or connection fails, then disaster can strike with costly damage to capital equipment and the possibility of loss of life.

In fact, the failure of the Large Hadron Collider not long ago was the result of an electrical contact problem due to overheating of a single electrical splice due to cold soldering. An electric arc punctured the container holding the liquid helium used to keep the collider at a temperature colder than outer space for maximum efficiency. Six tons of helium leaked out, overpowering the relief valves and adding to the damage. The resulting disaster damaged 53 of the 1,624 large superconducting magnets.
Types of Electrical Contacts and Connections
Several different types of electrical contacts, such as switching or arcing, sliding and removable connector contacts, can be found in electrical and electronic devices. Switching or arcing contacts open and close to apply or interrupt power or current flow. Switching contacts are found in circuit breakers, contactors and switches. Sliding contacts such as brush-slip ring pairs are common in electric motors, electrical power generators and other equipment with rotary shafts where electrical signals or power must be transmitted to or from rotating components. Certain control devices also utilize sliding contacts. Electrical and electronic connectors such as crimped connections, lug connectors, jacks, plugs coaxial connectors, and USB connectors also contain electrical contacts.

Figure 2. Gold-plated contact surfaces within the PL Series of plastic push-pull interconnects provide reliable and durable miniaturized connectors for medical and critical industrial applications. Source: ITT Cannon


Electrical or electronic joints containing a well-soldered, brazed or welded connection should have a metallurgical interface and are not true "electrical contacts." A brazed or solder joint with good wetting still has an interface. Diffusion and alloying can occur during brazing and welding, which can increase bulk resistance near the joint depending on the specific metals and processes used. A cold soldered or non-wetting soldered joint might be thought of as containing unintentional electrical contacts with low to nil contact force, which results in a highly resistive connection and I2R overheating when current is applied.
Contact Resistance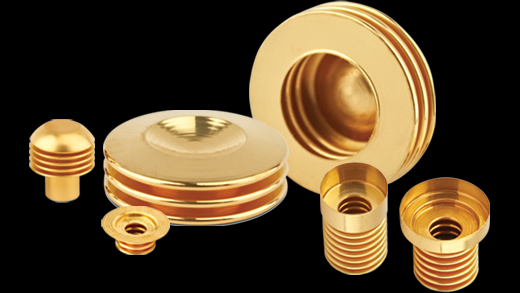 Figure 3. Bellows technology in electrical contacts reduces the signal loss and signal transmission speed because the signal travels the walls of the bellows, Source: ServometerMost of the resistance in a circuit breaker and electrical/electronic equipment is due to the electrical contacts or connections. Electrical contact resistance is a problem that has to be analyzed and engineered on the nano to macro scale in both microelectronic and electrical systems. Contact resistance is a very important issue in thin-film devices, integrated circuits, carbon nanotube-based cathodes, microelectronic interconnects, MEMS devices, sensors and field emitters. The contacts in electronic connectors must be resistant to oxidation or the build-up of non-conductive organic films. Gold plated contacts are used in many electrical connectors to maintain low contact resistance over time because gold is extremely oxidation-resistant.
While materials like graphene can be doped to provide room temperature conductivities exceeding copper, contact resistance has been an impediment to the implementation of graphene field effect transistors (GFET).An international group of researchers has developed "holey" metal-graphene electrical contacts with low resistance, which should speed up the development and use of GFETs.
(For additional details, read "Low Resistance 'Holey' Metal-Graphene Electrical Contacts - Breakthrough for Achieving Graphene Field Effect Transistors (GFETs)" on Engineering360.)
When two surfaces come into contact, only protrusions or high points make actual contact. Electrical and thermal energy flows through these constrictions, which vary in size and resistance with conductivity, hardness and applied contact force. In Ragnar Holm's classic 1967 book, "Electrical Contacts – Theory and Application," one can find the famous Holm contact resistance equation, which quantifies the relationship between contact resistance (Rc), material resistivity (ρ), material hardness (H), and normal force (F):
Rc = (ρ/2)(πH/F)1/2
C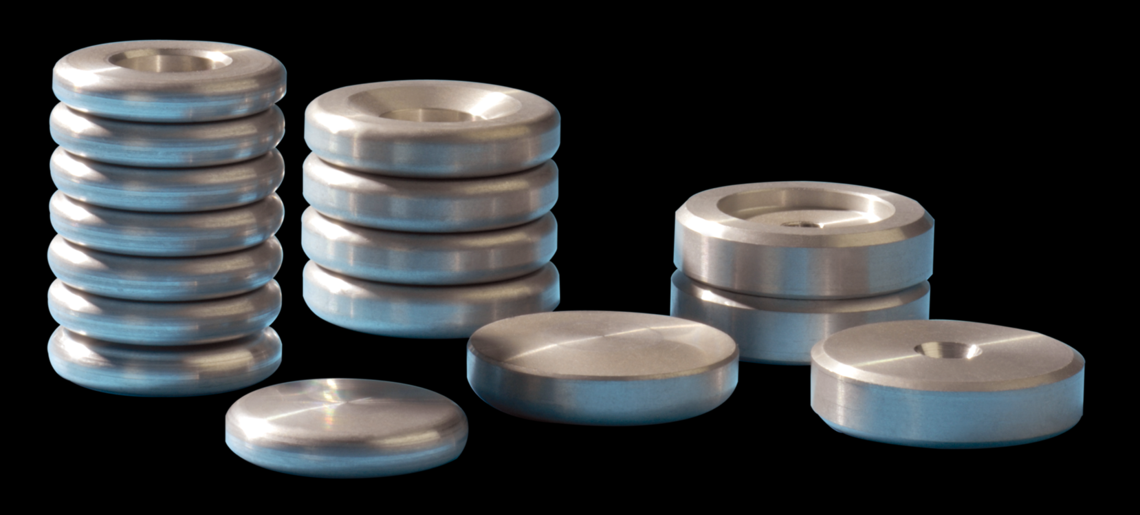 Figure 4. Arc resistant silver-tungsten carbide electrical contacts for circuit breaker applications. Source: Plansee SEontact force must be maintained in a connection in order to keep contact resistance low. Earlier aluminum lug connections overheated because thermal expansion mismatches reduced contact force (F), resulting in overheating. While purer and softer alloys or metals can reduce contact resistance by lowering H and ρ, we often need to alloy or add harder second phases into a contact material to reduce wear or friction or increase arc erosion resistance. Circuit breakers use silver-tungsten, silver-tungsten carbide and silver-tin oxide contact materials for wear and arc erosion resistance. The brushes in motors often consist of graphite-silver against or silver rings. Vacuum contactor or vacuum interrupters can utilize copper-tungsten or copper-chromium contact because no oxygen is present to oxidize the copper.
Modern electrical contact experts like Paul G. Slade have found that the cleanliness of the contacts and the development of insulating films have a significant impact on contact resistance. In Paul G. Slade's modern classic "Electrical Contacts: Principles and Applications," an updated equation is provided that takes into account contact cleanliness via the empirical coefficient (η) where η = 1 for clean surfaces.
Rc = (ρ)(πηH/4F) 1/2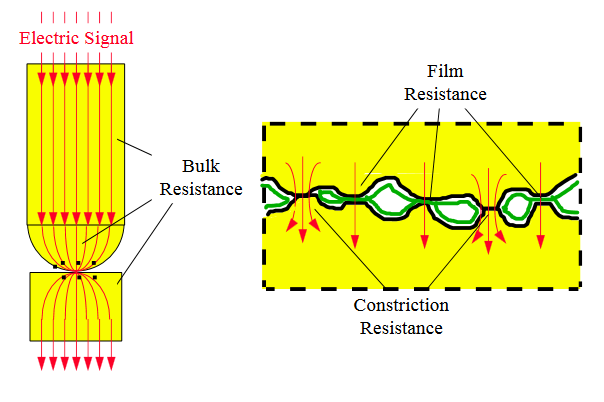 Figure 5. Sources of contact resistance at the contact interface include constriction resistance and film contamination. Source: Materion
The arcing and wear occurring during switching, overload interruptions and short circuits can produce a highly resistive film on electrical contacts where η < 1. A circuit breaker in an oil and gas facility exposed to sour gas (hydrogen sulfide, H2S) might be corroded or tarnished and develop an insulating film where η < 1. Higher contact resistance can be caused by particulate contamination deposited on contact surfaces in dusty, sandy or dirty field environments as found in mining, military and forestry operations. Electrical contacts and equipment must be engineered for the environment (marine, chemical plant, mining, etc.) as well as the device characteristics. The electrical devices should be engineered to provide as much environmental exposure as possible and reduce damage and oxidation from arcing.
Learning More About Electrical Contacts
Electrical contacts in circuit breakers must resist arc erosion and switching wear while still maintaining low contact resistance. Underwriter Laboratories (UL 489) defines some of the stringent qualification tests for circuit breakers and the electrical contacts used in those devices. The IEEE Holm conference is a good venue for learning more about the science, technology, and mysteries of electrical contacts. If you are interested in learning more about electrical contacts, attend the 2018 IEEE Holm Conference on Electrical Contacts in Albuquerque, New Mexico on October 14-15, 2018. An Intensive Course on Electrical Contacts, 2018 - IEEE Holm Conference is also taught at the conference by Paul Slade and other experts in the electrical contact field.