Ultrasound machines, used in hospitals and doctors' offices, cost up to $100,000. They are bulky and stationary. An MIT spinoff – Butterfly Network – created a small scanner that can convert a smartphone into a high-resolution ultrasound machine that is portable and costs less than $2,000.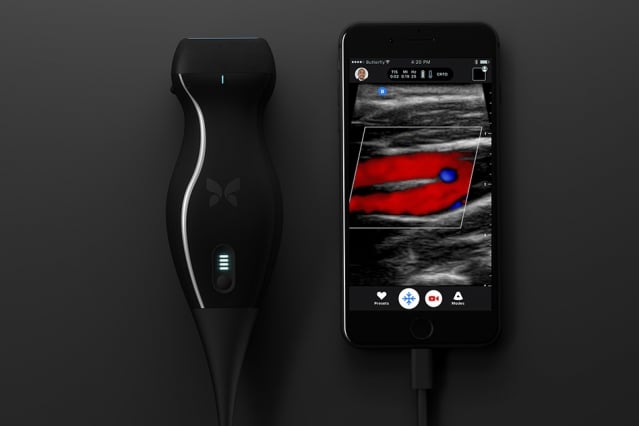 Handheld scanner for a smartphone ultrasound machine. Source: Butterfly Network
Founder Nevada Sanchez, who graduated in 2011 with a bachelor's degree in electrical engineering, started Butterfly Network at an MIT incubator based on his research after years of perfecting chip design and fabrication that mimics quartz crystals. The scanner used to produce ultrasound waves is based on crystal vibrations once an electric current is applied to the chip. The scanner – called iQ - connected to a smartphone recreates the ultrasound waves on the display of the phone.
Last year the Food and Drug Admnistrati0n (FDA) authorized Butterfly Network to distribute the device for human clinical applications, including fetal, gynecological, urological and others, resulting in thousands of orders.
"First users will be doctors and clinicians who are more comfortable with ultrasounds," says Sanchez. "But, eventually, everyone from paramedics to nurses to doctors who have never used ultrasound will carry it with them."
Butterly Network team is also planning to bring iQ to the developing world. They have been talking with non-profit organizations such as the Bill and Melinda Gates Foundation, so the device can be used to save lives in remote low-accessible areas.
"This is a perfect solution," Sanchez says. "Because it's low cost, we can put in the hands of doctors in remote locations and instantly save thousands of lives. But, I know there will also be other areas in critical care and in emergency rooms around developed and developing worlds where people's lives will be saved because of what we built. For me, that's motivating."
A video showing the uses of the device is included in this article.