A major problem that people have with powering an entire town with some kind of clean energy—like solar or wind—is the worry of what happens when there is no wind or sun? Some kind of backup power storage system is required to fill in the gaps when clean energy sources are absent.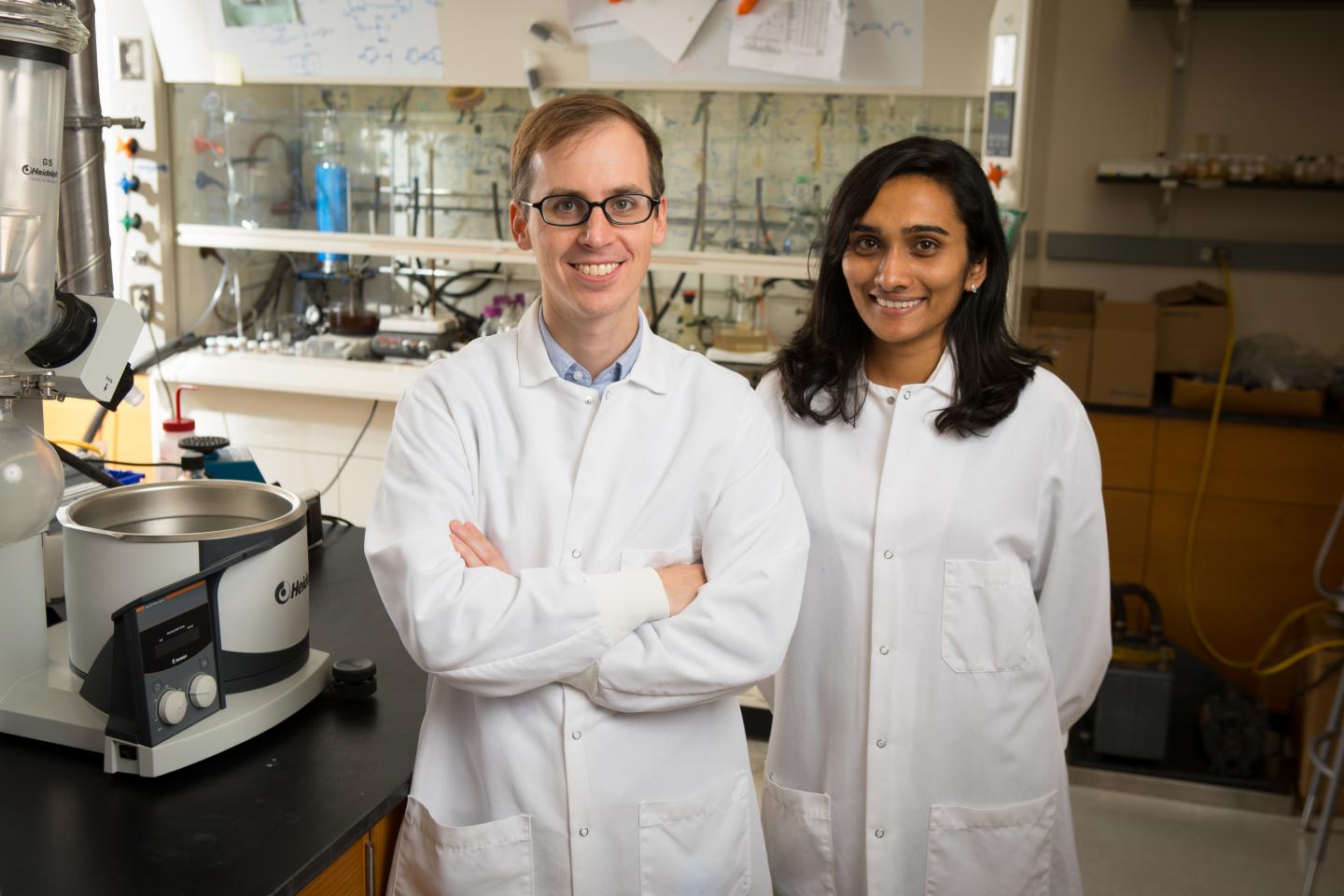 Timothy Cook, UB assistant professor of chemistry, and Anjula Kosswattaarachchi, UB PhD candidate, partnered with the University of Rochester on the research. (Source: Douglas Levere / University at Buffalo)
Researchers from the chemistry departments at the Univeristy at Buffalo and the University of Rochester have developed a way to create a storage system that saves excess solar or wind energy by charging solutions of chemicals that can be stored for later emergency use. During low energy producing times, the chemical solution of opposite charge can be pumped across solid electrodes. This creates electron exchange to provide power.
The key to developing these power storage systems is a redox flow battery. The redox flow battery finds chemicals that "carry" a sufficient charge and can be stored for long periods of time without disintegrating. This is a cheap alternative that holds the maximum amount of power generation.
The researchers have found that if they modify a metal-oxide cluster so it is almost twice as effective as an unmodified cluster. By adding the modified cluster to a redox flow battery, it has the ability to hold twice the amount of energy.
"Energy storage applications with polyoxometalates are pretty rare in the literature. There are maybe one or two examples prior to ours, and they didn't really maximize the potential of these systems," said the first author of the paper on this research, Lauren VanGelder, a third-year Ph.D. student at University of Rochester.
At first, the cluster was studied for magnetic properties. This study showed that it could store a charge, but it was stable enough to work for a redox flow battery.
But the team was able to fix this and expand the cluster's potential by just replacing the compound's methanol-derived methoxide groups with ethanol-based ethoxide ligands. This allowed the clusters to become stable and hold twice the amount of electrical energy than before.
"We carried out a series of experiments to evaluate the electrochemical properties of the clusters," Timothy Cook, Ph.D. and assistant professor of chemistry at the UB College of Arts and Sciences said. "Specifically, we were interested in seeing if the clusters were stable over the course of minutes, hours, and days. We also constructed a prototype battery where we charged and discharged the clusters, keeping track of how many electrons we could transfer and see if all of the energy we stored could be recovered, as one would expect of a good battery.
"These experiments let us calculate the efficiency of the device in a very exact way, letting us compare one system to another. Because of these studies, we were able to make molecular changes to the cluster and then determine exactly what properties were affected."
The research groups hope they can work further with this research to create full batteries that could power communities with clean power, even when the source isn't abundant.
The paper on this technology was published in the journal Chemical Science.