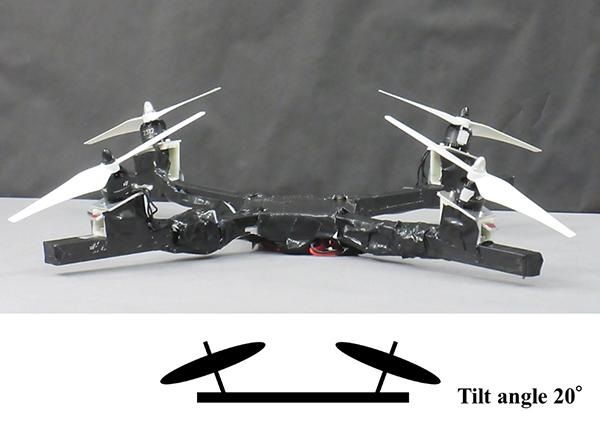 Quad-rotor configuration with outer side tiled rotor. Source: Hikaru Otsuka
Drones are taking over our airspace. From helping rescue people at sea to autonomous passenger drones flying people around, drone technology is making some serious advances. Even though new drones are being developed and released into the market every day, there are still a few challenges that drone developers need to overcome. The latest challenge researchers are tackling is a drone's ability to fight headwinds and avoid wind-related crashes.
Engineers from Tohoku University, Japan, are attempting to tackle this problem head-on. They have developed 20-degree angled rotor blades for quad-rotor, unmanned drones that give the drones the ability to fight strong headwinds.
Multi-rotor drones have been the key to successful drone operation for years. They allow the drones to vertically take off, keeping calm and stable in most conditions, except high winds. The Tohoku team's new angled blades are an attempt to fix this problem. By angling the rotors to 75 degrees or less, the airflow from the wind can pass each blade without the drone crashing or becoming unstable.
To test how helpful angled blades are, the team put a drone with blades that were angled at varying degrees in a wind tunnel and tested them at different speeds. Through this research, they found that the most efficient angle for the blades to avoid being dragged by wind is 20 degrees.
The authors found that tilting the rotors to the outside of the drone reduced the drone pitching due to harsh winds and environments. This could be helpful for drones used in conditions like inspection of wind turbines, disaster sites or rescue missions.
The paper on this research was published in the International Journal of Micro Air Vehicles.