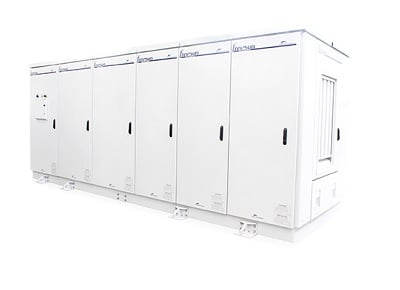 Source: Power ElectronicsA new medium voltage string inverter offers the advantages of its modular (string) architecture with the benefits of a central inverter.
Power Electronics introduced their new HEM medium voltage string inverter at SPI in Las Vegas. The device is set to revolutionize the photovoltaic sector supporting photovoltaic plants up to 3.3 megawatts in capacity. It is designed to reduce project costs and increase ROI for developers, plant owners and investors.
The HEM incorporates a patented "cyclone drive" cooling system guaranteeing maximum production in extreme climates, including high altitudes, corrosive environments and sandstorm conditions. It was also designed with capital expenditure in mind, ensuring quick deployment, easy installation and best in class cable management. The compact inverter also utilizes easy-to-service power components, which reduces operational expenses.
With a 1,500-volt input and medium voltage output, the HEM is a perfect platform for utility-scale projects. It is also complemented by Power Electronics Freemaq DC/DC Converter, which is a bidirectional converter designed for battery system applications.