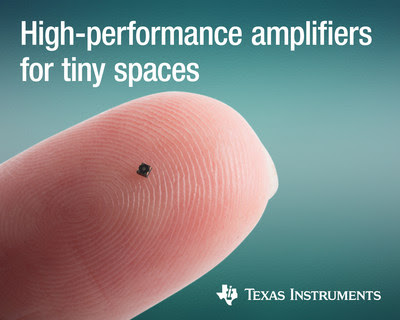 The TLV9061 operational amplifier. Source: Texas InstrumentsTexas Instruments has introduced a tiny operational amplifier and low-power comparators at 0.64 millimeters designed to reduce the footprint of internet of things (IoT), personal electronics and industrial applications.
The operational amplifier, TLV9061, is designed for use in wide-bandwidth, high-performance systems with a high gain bandwidth of 10 MHz, fast slew rate at 6.5 V/ µs and low-noise spectral density of 10 nV/√Hz. The family of comparators, the TLV7011, consume 50 percent less power than competitive devices with a response time with propagation delays down to 260 ns. Both devices support rail-to-rail inputs with low-voltage operation down to 1.8 V for use in mobile phones, wearables, optical modules, motor drives, smart grid and battery-powered systems.
The TLV9061 op amp features integrated EMI filtering inputs, provides performance for systems prone to RF noise, while reducing the need for external discrete circuitry. The TLV7011 family of comparators includes no phase reversal and integrated internal hysteresis for overdriven inputs increasing design flexibility and to reduce the need for external components.
The TLV9061 is in preproduction samples available and volume quantities of the TLV7011 family of comparators are available now priced at $0.19 and $0.25 in 1,000 unit quantities, respectively.