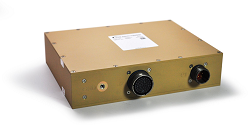 Source: North Atlantic Industries, Inc.
North Atlantic Industries, Inc. (NAI), a designer and manufacturer of commercial off-the-shelf (COTS), modified COTS and custom power supplies worldwide, announces the availability of the 56WS4 Standalone AC/DC Power Supply. The 56WS4 will accept either a three-phase, AC or a 270 VDC input. Output power of up to 1,500 watts is available.
The 56WS4 is ideal for rugged, conduction-cooled, military applications and provides full-power output at a baseplate temperature of 85 degrees Celsius. A sealed chassis enables the 56WS4 to withstand dust and water jets, with Environmental Intrusion Protection per IP66/66K (Dust & Powerful Water Jet Tight). The 56WS4 COTS power supply is specifically designed with NAVMAT component derating for rugged defense and industrial applications. Ten-piece pricing starts at $7,880 each with small quantity deliveries in two weeks or less.