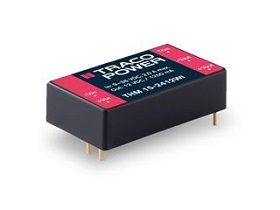 Source: Sager Electronics
Sager Electronics, a North American distributor of interconnect, electromechanical and power components and provider of value-add solutions, is now stocking TRACO Power's THM 15WI, THM 20WI and THM 30WI medical DC/DC converters.
These 15, 20 and 30 Watt DC/DC converters provide a reinforced insulation system for 5,000 VACrms with compliance to latest safety standard IEC/EN/ES 60601-1 3rd edition for 2 x MOPP and are approved for an operating altitude of up to 5,000 m. The converters come with the risk management file according to ISO 14971.
With a high efficiency of up to 90 percent and highest grade components, the converters reliably operate in an ambient temperature range of minus 40 degrees Celsius up to 85 degrees Celsius while the design size is very small. A low leakage current of less than 2.5 µA qualifies them for BF (body floating) applications. The new models, in stock at Sager Electronics, have a wide 4:1 input voltage range and are available as single or dual output version.
The new THM series medical DC/DC converters from TRACO Power are in stock at Sager Electronics.