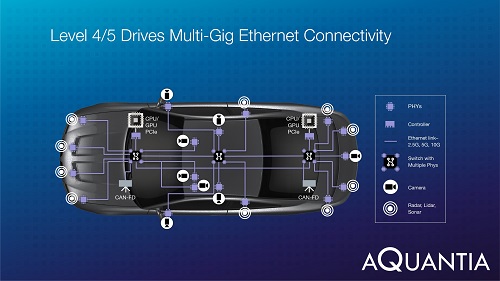 The multi-gig network will help with safety in autonomous vehicles. Source: AquantiaAquantia Corp. has introduced a new suite of products that will allow for multi-gigabit Ethernet networking devices in autonomous vehicles.
The products include the AQV107 multi-gig PHY, AQVC107 multi-gig MAC+PHY Ethernet controller and AQV100 PCIe multi-gig controller.
"The number one feature for self-driving vehicles is safety," says Faraj Aalaei, chairman and CEO of Aquantia Corp. "Vehicle sensors and cameras collect huge amounts of data that need instant processing to allow the vehicle to make critical decisions that ensure the safety of the driver, passengers and anyone else sharing the road. Moving data between the sensors and the compute nodes within the in-vehicle network (IVN) requires Multi-Gig capabilities to deliver a safe and secure driving experience."
Aquantia has also formed an agreement with Nvidia to provide multi-gig networking support for Nvidia's autonomous vehicle platform Drive Xavier and Drive Pegasus. Aquantia says the devices will be available in the first quarter of 2018.
The company says these products will enable the deployment of next-generation networking architectures to provide new levels of passenger safety and security for Level 4 and Level 5 self-driving cars. Moving to Level 4/5 autonomy will require a network that can:
Support the increasing number of sensors and high resolution cameras.
Redundancy of systems for function critical components.
The ability to move from multiple network interfaces into coherent, secure networks.