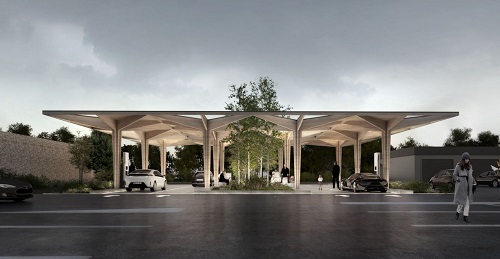 The fast charging station concept. Source: CobeNordic design house Cobe is partnering with Swiss-based charging station vendor Clever to bring a new type of ultra-fast charging station to market that is designed to create a calming atmosphere.
The charging stations will take the form of a series of structural trees that filter light and shade to create a green environment with a calming atmosphere. Cobe says the approach is scalable so one tree can multiply to become many trees if capacity is needed or it can remain a standalone station.
The idea is to not just let drivers get their cars recharged, but to also be a place that lets them take a break during a journey. The companies plan to roll out a total of eight charging stations in Denmark in the next few years with the first one being completed in Fredericia mid-year. There are also plans to build 40 stations in Sweden and Norway.
While the structure itself will be made of "wood" in appearance, there will be actual plants throughout the station as well as the possibility of a meditation garden in case you want to do that while you recharge your vehicle. The top of the tree-like chargers will use solar power for energy, making it a greener alternative to other charging stations, the companies say.