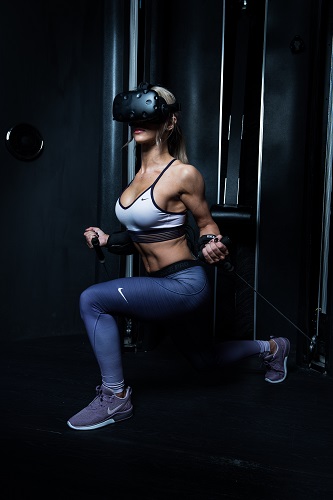 The VR system is designed for both fitness and eSports. Source: Black Box VRBlack Box VR was declared the Best Startup of CES 2018 for its resistance-based virtual reality fitness gear that integrates fully automated cable resistance machine with virtual reality hardware and software that is powered by HTC Vive.
Chosen from about 4,500 exhibitors at the annual consumer electronics show, the system allows users to get an intense, time-dilated, custom workout while immersed in challenging, gamified and competitive virtual reality fitness for both eSports users as well as fitness gurus.
"Over the past 18 months we've put in an enormous amount of work to strategically combine science-backed fitness programs with the addictive qualities of gaming, immersive technologies, and innovative hardware to transform lives for the better," says Preston Lewis, co-founder and CCO at Black Box VR. "This award is a testament to the hard work put forth by our talented, passionate, and multi-faceted team, and we couldn't be more thankful for this amazing recognition."
Black Box VR plans to open up its first boutique gym in San Francisco later this year as a way to establish brand recognition and give users a hands on feel of the equipment so it can expand its presence in the marketplace.
The VR equipment allows users to use strength, agility, balance and speed in a virtual world that harnesses the nature brought out in video games and turns it into a real, physical workout for both the mind and body, Black Box says.