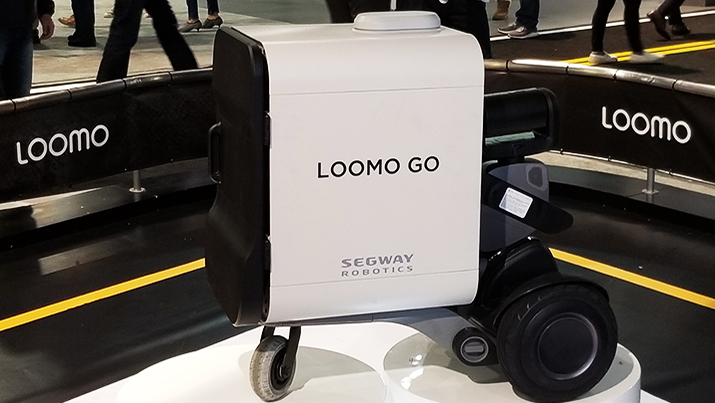 The Loomo Go is built for enterprise and mobile delivery. Source: Peter Brown/Electronics360Segway is best known for its personalized transportation products, which made a splash in the early 2000s.
Since that time, the company has continued to make transportation products while also branching out into robotics.
The company introduced its latest creation at last week's CES 2018, held in Las Vegas, with its Loomo companion robot. Loomo leverages Segway's self-balancing technology combined with a suite of sensors and Intel's RealSense camera.
The RealSense camera enables depth-sensing and facial recognition as well as person tracking so Loomo will learn to follow and communicate with those around it, and the artificial intelligence powered by the Intel Atom processor allows for it to learn the preferences of individuals. The same AI allows for localization and mapping of both the indoors and outdoors of a home. A built-in microphone allows users to send voice commands to Loomo from anywhere in the room, and the self-balancing assembly allows it to travel most places inside a home and can carry a payload of up to 200 pounds.
Segway is also offering Loomo as an autonomous delivery vehicle (and that makes sense considering it can carry 200 pounds) called Loomo Go. With a carrying case strapped to its back, the Loomo Go is a robotic delivery service that can make multiple deliveries in one trip, the company says. Businesses control the timing of the robot and it knows the route through cloud-based application programming interface (API) algorithms, avoiding obstacles around it (including humans).
If you want a Loomo to follow you around and be your companion or want it for your delivery business, it will cost a cool $5,999. But depending on your needs, it may be worth it.