As we're just barely into 2018, it's important to look ahead at what technology has in store for the industry this year. Of course, electronics enthusiasts are busy focusing on the newest consumer electronics amid the Consumer Electronics Show buzz coming out of Las Vegas this month, but first we must establish the core trends driving the manufacturers that are making these products so readily available.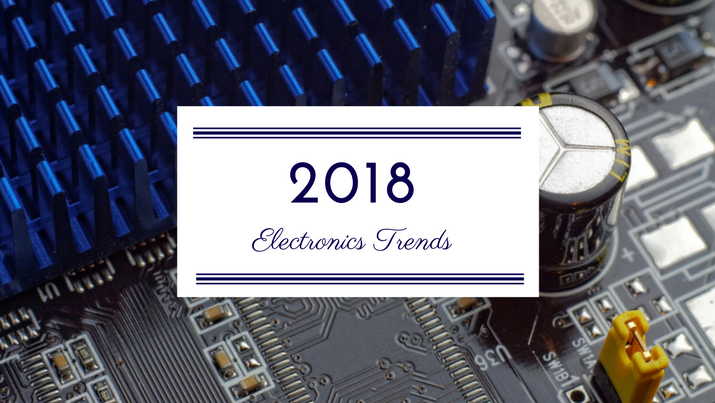 As we look at the next 12 months, this is what we should expect:
An increased importance of sensors in Factory 4.0 applications
"I see Industry 4.0 technologies being adopted by our industrial customers to produce more efficient, higher performance manufacturing equipment. The Smart Factory of tomorrow relies on highly accurate, timely information from sensors in all parts of the manufacturing process to produce the data required to optimize production in real time. This explosion in data requires more machine connectivity at much higher data rates, requiring smaller footprint connectors capable of handling datacenter-like transmission speed but in a very harsh environment," says David Brown, VP & Chief Technology Officer, Industrial Solutions, TE Connectivity.
One major assistant in the propulsion of Industry 4.0 tech is that of mobile robots and cobots, all equipped with the sensors for spatial detection.
2. Automotive and IoT will be at the forefront of 2018 innovation
Both of these technology sectors will advance this year, but together they will play an even more dominant role. Gartner predicted that the connected car will become among the most important "things" to be connected to the internet over the next few years.
And it's not the only set of predictions in this segment. Both Microchip and TE Connectivity shed light on these technologies as they predict they will play out this year.
"We expect that the industrial, automotive and IoT markets are likely to be the stronger end markets in 2018, and we are extremely well positioned to capitalize on the growth opportunities from these and other markets. Our approach is to be a Total System Solution provider to our customers, bringing together our broad portfolio of solutions to enable our customers to grow through innovation, reducing overall system costs and achieving fast time to market," said Ganesh Moorthy, President and Chief Operating Officer, Microchip.
Sensors will be monumental in the growth of IoT and automotive technology, as we will discuss in a moment, but they will spark new technologies in the realm of connected vehicles.
"Expect increased deployment of driver-facing cameras and sensors to determine level of distraction and further development of vision-based sensors and algorithms to anticipate critical situations. TE is developing sensors that can be embedded in car seats to aid in the detection of drowsy drivers. Biometrics, coupled with sensor data from the steering wheel angle and throttle position can be used to determine the state of driver alertness," says Alan Amici, VP & Chief Technology Officer, Transportation Solutions, TE Connectivity: On Future Mobility.
Overall, Gartner reports that by 2020, IoT tech will be included in 95 percent of electronics for new product designs. It will be very possible to add IoT features to any product at little cost. Of course, this will lead us to another major 2018 focus — security concerns that come along with connected products.
3. Security and data management will raise concerns—require solutions
IoT devices will become even more of a target for hackers in 2018. It's not shocking that any technology connected to the internet will come along with security concerns. As IoT continues to grow, this will be the case.
As more and more devices become interconnected, especially in the manufacturing world, it will leave them susceptible to new forms of data breaches, causing security experts to determine new methods of overcoming attacks on business.
Even automated bots can get into IoT devices. To combat this, IoT devices and networks need to be scanned for malware and kept up to date on OS checks. Today, security products are even made specifically for checking sensors.
Gartner even suggests that by 2022, due to such little investment in security that many companies possess, we'll see more and more recalls and safety failures instead of protection solutions.
Another topic that closely aligns with security is that secure process of managing data that comes along with the IoT. Data management will be important — whether accessing IoT data or in the case of autonomous vehicle safety. Asset tracking and automation as it relates to data management will also be a key focus this year.
4. Overall sensor growth
Sensors enhance the reliability and efficiency of many services, all of which the electronics industry will continue to play on.
According to Sachin Garg, Associate Director, Electronics & Semiconductor, MarketsandMarketsResearch:
"Sensors have become the backbone of the internet of things (IoT) ecosystem comprising smart home, smart grid, intelligent transportation and smart healthcare. These are the basic infrastructure systems that are crucial for a connected world. Key factors contributing to the growth of the sensors market include the development of cheaper, smarter and smaller sensors; popularity of smart devices and wearables; need for real-time computing of applications; and surge in demand for IoT sensors in various applications. The industry has seen an explosive y-o-y growth in the last 2 years; 22.7 percent in 2016 and 15.9 percent in 2017. It is anticipated that the year 2018 will also see a double-digit growth entailing the future demand from more complex applications in newer technologies such as augmented reality and virtual reality (AR/VR), robotics, drones, artificial intelligence and Industry 4.0."
5. Smarter everything
Not only will AI propel industrial, manufacturing and consumer related technologies this year, but according to Gartner, it will also create more jobs by 2020. Reports indicate it will create 2.3M jobs while only eliminating 1.8M jobs.
Expect advances in machine learning and a breakthrough in intelligent automation, as well as a more intelligent supply chain. Thanks to automation, we may see more and more supply decisions based on insight from new data gathering methods.
"One of largest macro-trends that I see is more intelligence — everywhere. Across our industrial customers, I see an ever-increasing demand to instrument, sense and measure and analyze data at multiple points in systems. Systems that have for years been standalone are now being connected and networked," added Brown.