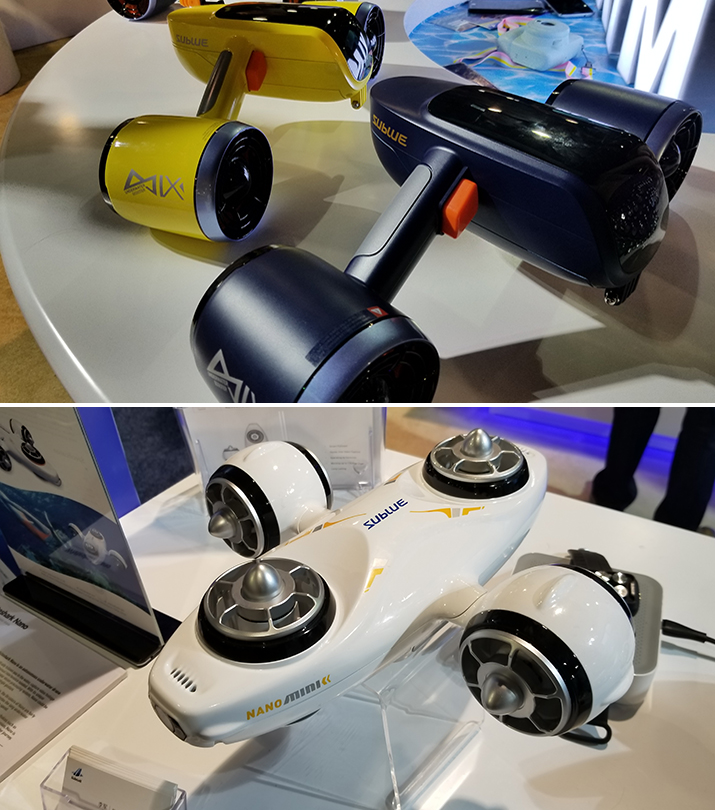 Sublue's Shark MAX (top) and Shark MINI.
Ever swim with a shark? Normally, we wouldn't recommend it. But if that "shark" is one of the new submersibles from Sublue, an underwater robotics developer that's one of the exhibitors at CES 2018, that's a different story entirely.
Sublue has just unveiled its Shark MIX, a dual-propulsion underwater scooter that enables a user to move "as fast as a professional swimming athlete" in the water, according to the company. It is operated by magnetic switches located in hand grips next to each propeller, which are encased in protective netting for safety. The device also includes a GoPro camera interface that allows underwater recording.
The company's Shark MINI, a remotely operated underwater vehicle (ROV), is targeted primarily at the commercial market. Use cases include surveying, salvage and rescue operations and high-definition underwater photography. In addition to remote control, the device is capable of tracking human sonar beacons and automatic tracking by vision algorithm. Maximum depth is 40 meters, or approximately 131 feet — far deeper than the typical recreational dive.
For more information, visit the Sublue website.