A novel air-conditioning system engineered at National University of Singapore (NUS) operates without the use of compressors or chemical refrigerants and consumes about 40 percent less electricity than current compressor-based systems. The system also produces potable water as it cools ambient air.
The portable air-conditioner is membrane- and water-based, cooling air to as low as 18 degrees Celsius without the use of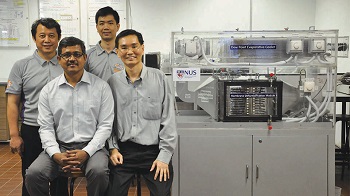 NUS Engineering researchers developed a novel air cooling technology that could redefine the future of air-conditioning. Source: NUSchlorofluorocarbons and hydrochlorofluorocarbons.
After a paper-like membrane material removes moisture from humid outdoor air, the dehumidified air is then cooled via a dew-point cooling system using water as the cooling medium instead of environmentally harmful chemical refrigerants. Hot air is not released to the environment, as is common with vapor compression air-conditioners. The system discharges a cool air stream that is relatively less humid than ambient, and can harvest 12-15 liters of drinking water after a day's operation.
The system can be customized for weather conditions ranging from the humid tropics to arid desert climates. The researchers say it can be scaled up to efficiently air-condition clusters of buildings in addition to applications in residential and commercial spaces.
Future improvements to the air-conditioning system will include pre-programmed thermal settings based on human occupancy and real-time tracking of its energy efficiency.