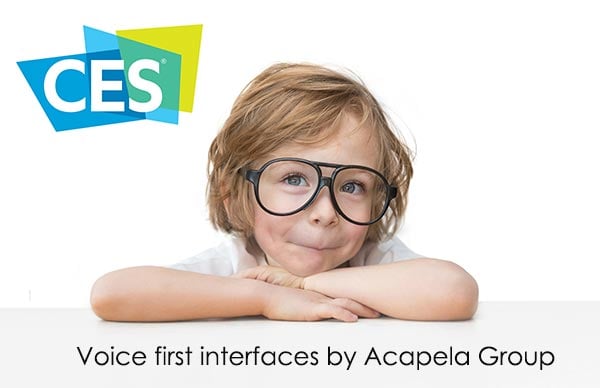 Acapela Group is displaying its voices for kids' toys at CES 2018. Source: Acapela Group
Acapela Group is creating new voices for devices to better interact with users, no matter age or skill, with voices that adapt to the context. These personalized voices convey meaning, intent and emotions.
At CES 2018, Acapela is displaying its voice solutions for smart toys, IoT and vehicles. Attendees at CES can hear more about the voice solutions and even test out some of the voices on Plotagon's DIY animation software or control home devices that have the Snips solution.
Children naturally voice-interact with smart toys that have the ability to answer questions, play games, spell, tell jokes and more. Using smart toys could be great for children's development and socialization.
The internet of things simplifies daily life, from the smart fridge to light bulbs, security systems, door lock control, smart pills and any other connected devices. These devices can all be improved with Acapela's personalized voices.
Voice technologies are a major part of daily life now. From Amazon's Alexa and Google Home to in-car assistants, they are everywhere. Acapela voices are contributing to in-car voice assistants with hopes that the voices are contributing to making the journey safe and pleasant with personalized audio information from departure to arrival. At CES 2018, attendees can listen to Acapela's new voice on the Autonom Cab, a robo-taxi by Navya.
If you are at CES 2018, stop by Acapela's booth and check out the new technologies! If you are not attending, you can learn more about Acapela and its new voices here.