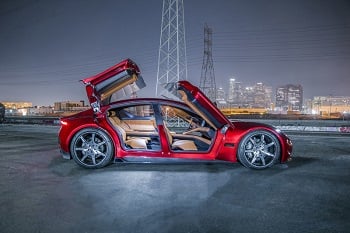 Source: Fisker Inc.Automotive designer and manufacturer Fisker Inc. is unveiling the Fisker EMotion luxury electric sedan for the first time in public at CES 2018 in Las Vegas, starting Jan. 9 at booth #3315. To complement this global debut, the patent-pending Fisker Flexible Solid-State Battery will also be on display. The battery technology delivers 2.5 times the energy density of lithium-ion batteries, significantly improving electric vehicle (EV) range and charge times.
Fisker EMotion specs:
◦EV Range: 400 miles
Top Speed: (Estimated) 161 mph
All-Wheel Drive
24" Low Rolling Resistant Pirelli Tires
Optional lightweight Carbon barrel wheels
5 Integrated Quanergy LiDARs For Autonomous Driving Capability (Up to L4)
Patented S3 Solid-State LiDAR Sensors: Designed to provide the highest level of performance, reliability, durability and dependability required in safety-critical automotive situations
Unparalleled Awareness: Only LiDAR with sensor hardware and perception software (The vehicle senses and perceives surroundings – detecting and classifying objects for real-time reaction)
Carbon Fiber and Aluminum Lightweight Construction
Front Brand Identity Design: Vehicle crafted around the LiDARs (Rather than an antiquated radiator)
Front LiDAR Integrated Flush Behind Front Wheel
Rear LiDAR Hidden in Lower Rear Rocker Panel
Doors Open/Close Controlled by Smartphone – With Exterior Unmovable Flush Touch Handles (Illuminated handles; discreet inner levers and touch panel closes)
Lower Exterior: Aero features, front spoiler, side rocker panels and rear diffuser in exposed lightweight carbon fiber
Ultra-Soft Premium Leather
Interior Color: Caramel and Midnight Black (Fisker was the first automotive brand to offer a vegan interior as an option – and will do so again with the EMotion)
Three Driver-Oriented Screens, With Center Curved Screen
Inductive Charging Ports and Special Holders For Four Smartphones (Partially visible)
Carbon Fiber Center Console with Additional Storage Space for Tablets and Accessories
Four Individual, Electric Adjustable First-Class Seats
Optional 27" Curved Rear Screen For "Chauffeur Edition"
Five Seats, Rear Bench Option
Individual Four Zone Electric Adjustable Tinted Roof: Electrochromic Glass in Collaboration with Lipik
Fisker Flexible Solid-State Charging Technology:
Fisker's scientists, including the former co-founder of global battery tech pioneer Sakti3, filed patents on flexible, superior energy density solid-state batteries.
Fisker's solid-state batteries will feature three-dimensional electrodes with 2.5 times the energy density of lithium-ion batteries.
Breakthrough technology will enable dramatically longer ranges of more than 500 miles on a single charge and charging times as low as one minute – faster than filling up a gas tank.