Airlango, a Beijing, China-based developer of machine perception and intelligence technology, today announces its new AI drone prototype at the 2018 Consumer Electronics Show (CES) in Las Vegas. The smart, flying camera is called Mystic, and it features the ability to recognize and follow its owner and obey hand-gesture commands from the ground.
Founded by notable researchers in AI, algorithms and software, Airlango is on a mission to enable natural and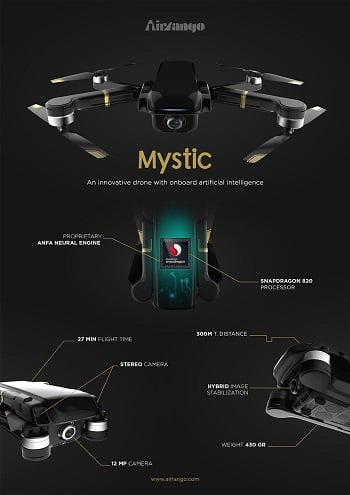 Source: Airlangoeffortless interactions between human users and drones. With their prototype's sophisticated chipset — the first chip ever programmed for flight control and AI functionality — the company is making a huge leap forward.
Mystic's capabilities include an autonomous follow-me feature and a gesture interaction mode. Assign a given task — e.g., take a picture — to one of six hand gestures, and the drone will thereafter respond and complete the task within less than half a second of that gesture. There's also an owner recognition mode, through which the drone can automatically recognize its owner. Mystic also includes an app to control the drone with Wi-Fi.
The drone essentially has a 'brain' divided into two parts. The lower part of the brain handles traditional flight control tasks, while the upper brain handles the complex sensory and neural functions of the flying camera. These components work in concert to deliver different tasks to the drone.
For example, the vision sensor input is processed by Airlango's ANFA Neural Engine, which utilizes an advanced convolutional neural network to process incoming images, and infers information such as the identity of the user, or the body gesture of the user(s). At the same time, Airlango's drone also uses multiple sensor inputs to perceive the environment around it, and to direct the lower-level control engine to adjust the drone's altitude and position accordingly.
By combining AI and robotics, Airlango aims to develop drones that serve human users autonomously in a range of scenarios. In the near-term, this might include entertainment, the delivery of goods or emergency response.