Nissan wants to tap into drivers' brains to enhance the safety and experience of automotive travel. The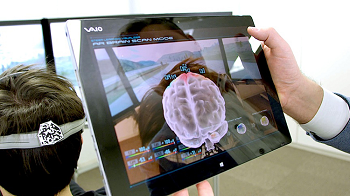 Source: Nissancompany's brain-to-vehicle technology, which will be demonstrated at CES 2018 during January 9-12 in Las Vegas, enables vehicles to interpret signals from the driver's brain, redefining how people interact with their cars.
The real-time brain monitoring system consists of a wearable device that tracks brain wave activity. Algorithms based on brain decoding technology analyze the data to both predict the driver's actions and detect signs of discomfort. The system anticipates movement and can initiate actions, such as turning the steering wheel or slowing the car, 0.2 to 0.5 seconds faster than the driver, while remaining largely imperceptible.
By catching signs that the driver's brain is about to initiate a movement — such as turning the steering wheel or pushing the accelerator pedal — driver assistive technologies can begin the action more quickly. This can improve reaction times and enhance manual driving. By detecting and evaluating driver discomfort, artificial intelligence can change the driving configuration or driving style when in autonomous mode.
Nissan will use a driving simulator to demonstrate some elements of the technology at booth 5431 in the Las Vegas Convention Center's North Hall.