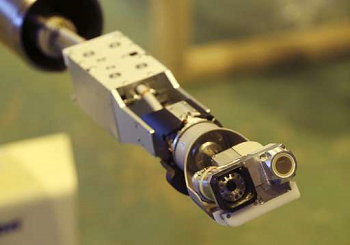 The device is designed to provide a deeper view into the nuclear plant's Unit 2 primary containment vessel, where details on melted fuel damage remain largely unknown. Source: AP Photo/Koji Sasahara
A new tool developed by Toshiba Corp. will assist in the ongoing inspection and assessment inside the No. 2 reactor at the Fukushima Daiichi Nuclear Generating Station, where a triple meltdown occurred in 2011. The 43-foot (13-m) long probe designed to do wide scanning inside the primary containment vessel is expected to be deployed in late January 2018.
Its initial target is the pedestal floor of Unit 2, which lies underneath the reactor core and is expected to contain some melted fuel.
The 4.7-in. (12-cm) diameter instrument includes a camera, a dosimeter and a thermometer. If there are no obstructions in the way, it could reach the bottom of the reactor vessel in order to locate melted fuel. Two teams of several engineers will remotely operate the probe from a radiation-free command center at the plant.
A simpler predecessor to the new tool had captured a limited view of the vessel during a preparatory investigation in February 2017. A crawling robot sent in later in February struggled with debris on the ground and stalled in the end due to higher-than-expected radiation, its intended mission incomplete.