Today, distributor New Yorker Electronics announced the release of a new high-density, low-profile electrolytic capacitor series produced by Cornell Dubilier Electronics (CDE). The CDE 85C THA Series ThinPack capacitors are only 8.2 mm thick while the 105C THAS Series is 9 mm.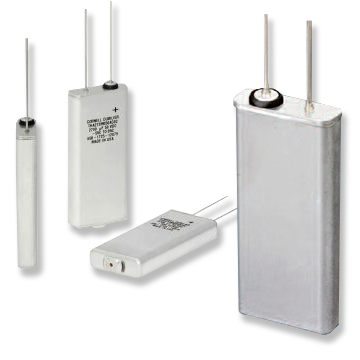 The series offers a higher bulk-storage energy density than standard capacitors of similar footprints, such as the V-chip electrolytics, tantalum or board-mounted axials. Both capacitors in the series could replace an array of SMT, axial or radial aluminum electrolytic array.
This, in turn, will allow designers to simplify assembly at a higher reliability. In most applications, there are significant cost, weight and space savings versus a comparably rated bank of SMT or axial aluminum electrolytic capacitors. In addition, the use of a single component versus many and fewer connections improves overall circuit reliability.
Some features of the series include:
· Low profile
· Very high energy density (up to 0.9 J/cc)
· 3000 hour life at 85° C
· REACH and RoHS Compliant
· Temperature range: -55 C to +85 C for THA and -55 C to +105 C+ for the THAS series
Applications, include:
· Tablets and laptops
· Instrumentation
· Commercial-grade LED driver modules
· Compact power supplies
· Drones and RPVs
· Set-top boxes
· 1U rack-mounted devices
New Yorker Electronics is a franchised distributor providing the best in products and services in the electronic components industry since 1948. With AS9120 and ISO 9001:2015 certification and over 65 years of experience we pride ourselves on our ability to be responsive, knowledgeable and to deliver exceptional products and service to designers, engineers and purchasing and procurement agents alike all across the globe.