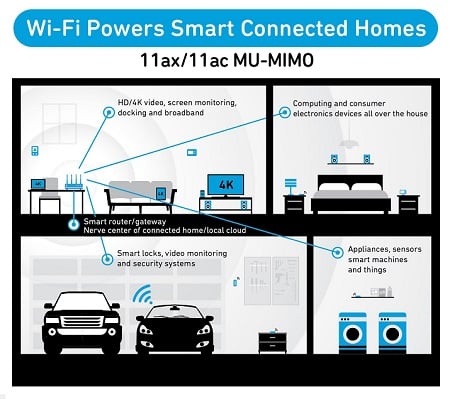 Illustration of distributed Wi-Fi. Source: Qorvo
Smart homes, smart cities, smart everything: That's the teaser promoting Qorvo's presence at CES 2018, which will be focused on the Internet of Things and solving its radio-frequency challenges. The company is a leading developer of wireless semiconductor solutions for connected devices.
Talking recently to online trade magazine Home Toys, Qorvo's Cees Links said that the company's booth at the trade show will have an animated demo wall that explains the concept of distributed Wi-Fi. Qorvo will also showcase their "One-pod per-room" concept: All devices in the home connect to a small "pod" router in every room, and the pods are interconnected via high-speed Wi-Fi to the main router for external internet connection.
In October, Qorvo announced an expanded portfolio of 802.11ax products for Wi-Fi gateways, set-top boxes, routers and enterprise access points. IEEE 802.11ax is a wireless local area network (WLAN) specification, still in development, that is designed to improve overall spectral efficiency. According to a Qorvo whitepaper, the specification is less about higher data rates and more about the simultaneous use of as many channels within the frequency band as possible.