A novel electrochemical water purification system developed by National University of Singapore removes 99 percent of stubborn organic contaminants without generating secondary waste. The system is expected to help industries reuse the wastewater they generate or discharge it in a form that does not harm the environment.
"Despite the great advances in wastewater treatment technologies, the removal of refractory organic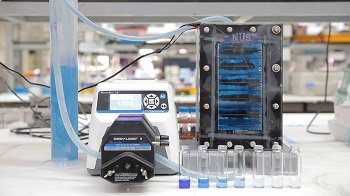 The system removes up to 99 percent of recalcitrant impurities from industrial wastewater without using chemicals or generating sludge. Source: National University of Singaporecompounds remains a costly and challenging process. Our invention provides an environmentally friendly solution and helps to raise the overall standard of industrial wastewater treatment," said Assistant Professor Olivier Lefebvre from the Department of Civil and Environmental Engineering.
The system operates on low electrical power without the need for chemical addition. As electric current passes through the wastewater, electrodes generate hydrogen peroxide and hydroxyl radicals, powerful oxidizing agents that continuously break down complex organic compounds into water and carbon dioxide. It is capable of cleaning 10 liters of wastewater in six hours.
The researchers suggest the water purification scheme could be employed in electronic and pharmaceutical industries where the wastewater generated contains high concentrations of solvents and complex organic substances that are non-biodegradable. It could also be applied to treat micro pollutants in domestic wastewater, to control algal growth in water bodies and in purifying landfill leachate.
The researchers recently developed superior graphene electrodes that can speed up the system's water purification process and are now looking to collaborate with industry partners to commercialize the technology.