Strong smells are the main indicator that food has gone bad, but soon there could be a new way to sniff foul smells earlier on. Researchers have developed a bioelectric "nose" that can specifically detect a key decay compound at low levels, enabling people to potentially take action before the smell starts to spread. This nose can do more than just detect rotting food. It can also be used to help find victims of natural disasters or crimes.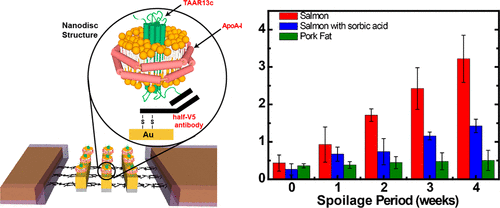 Cadaverine (CV), a death-associated odor, is an important target molecule for various sensor applications, including the evaluation of food spoilage. In this study, we developed an oriented nanodisc (ND)-functionalized bioelectronic nose (ONBN), based on carbon nanotube transistors and nanodiscs embedded with an olfactory receptor produced in Escherichia coli (E. coli) for detection of CV. To fabricate ONBN devices, a trace-amine-associated receptor 13c (TAAR13c) binding to CV was produced in E. coli, purified, reconstituted into NDs, and assembled, in the desired orientation, onto a carbon- nanotube-based field-effect transistor with floating electrodes. (ACS Nano)
When food starts to rot, the bad smell comes from a compound called cadaverine. This substance is also responsible for the stench of rotting bodies or cadavers, hence the name. The compound is the result of a bacterial reaction involving lysine, which is an amino acid commonly found in various food products.
A previous study has shown that a receptor in zebrafish has an affinity for cadaverine. To make this receptor in the laboratory, scientists have turned to E. coli as a host cell because it can easily produce large quantities of proteins. The production of this receptor in E. coli has been a challenge because it needs to be a membrane. One way to do this is to make the protein in a bacterial cell and reconstitute it in nanodiscs, which are water-friendly, membrane-like structures that the receptor can reside in. Seunghun Hong, Tai Hyun Park and colleagues wanted to see if they could put the receptor into nanodiscs to create a sensitive and specific detector for cadaverine.
The researchers successfully produced copies of the receptor in E. coli and assembled them into nanodiscs. The receptor-containing nanodiscs were then placed in a special orientation on a carbon nanotube transistor, completing the bioelectric nose. During testing with purified test compounds and real-world salmon and beef samples, the nose was selective and sensitive for cadaverine, even at low levels. Additionally, the researchers say the detector could someday prove useful in finding bodies because the compound is also produced when a person dies.
A paper on this research was published in ACS Nano.