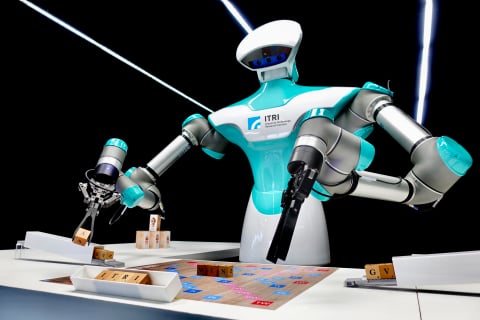 This robot can challenge you to Scrabble at CES 2018. Source: ITRI
The Industrial Technology Research Institute (ITRI) is inviting attendees of the CES 2018 convention to play Scrabble with their robot, use a handheld pesticide detector while washing fruit and vegetables and view nine new artificial intelligence, robotics, smart city and battery technologies.
The Intelligent vision system for companion robots integrates AI, 3D vision recognition and hand-eye coordination. This allows these robots to play games like Scrabble, pour coffee and learn from their experiences as they are operating with humans. This robot technology is a CES 2018 Innovation Awards honoree.
The Handheld Pesticide Residue Detector is a portable device that can determine if pesticide residues are within a safe range when washing fruits or vegetables. This technology is also a CES 2018 Innovation Awards honoree.
Reconfigurable Array of Inexpensive Batteries Architecture (RAIBA) is an intelligent battery system that uses AI self-learning and optimization technology to reconfigure a battery array to suit specific load requirements.
Self-Terminated Oligomer with Hyper-Branched Architecture (STOBA™) is a battery safety material that reduces the fire hazard of lithium-ion batteries.
DeepLook is the first large-scale, cloud-based video analytics technology to integrate video streaming and computing resources for video analysis and identification for tracking stolen cars, detecting tailgating and monitoring suspicious activities.
Genki Bot uses AI to learn a user's sleep environment and optimize it by recommending songs, sounds and lighting.
ITRI Music AI software contains deep neural network (DNN) models that learned from massive collected music datasets on the internet. The DNN models classify musical genres and compose new music.
LIM-3D is a multi-layer 3D antenna design and manufacturing technology, which provides an important solution for integrating 4G LTE MIMO multi-antenna systems, or even future 5G antenna systems into smart handset terminals.
Optical Camera Communications (OCC) technology exploits LEDs to enable data communication and lighting simultaneously. Using the embedded camera of a smartphone and a software-based decoder, it can achieve visible light communications and can be used in e-posters or light panels for store ads or museum exhibitions.