Occasionally it is necessary to figure out how fast an electric motor is spinning. The measurement can be done with a number of tools. The easiest means is with a tachometer. In some cases, it can be done simply with a smart phone and an app. Adept makers and hobbyists can build their own devices to accomplish this task.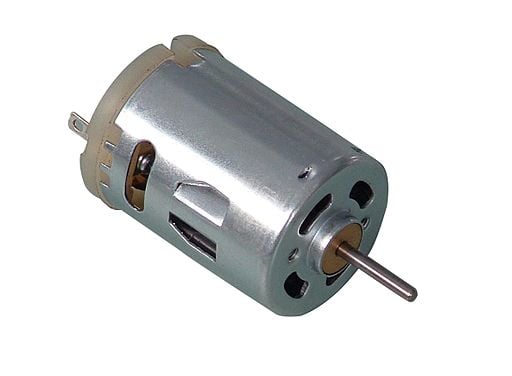 Source: Dcaldero8983/CC BY-SA 3.0
Motor speed measurements, in units of revolutions per minute (RPM), are often obtained either optically or by contact with the motor shaft. Devices that use optical measurement require a reflective sticker placed on the spinning part of the motor. A device shines a light on the motor, reads the reflections from the sticker and shows the RPM on a display.
Other devices require a mechanical connection to the motor shaft, often created by simply pressing the reading device onto the motor shaft. A tachometer designed for measuring motor speed can be purchased for around $40 or more, depending on the kind and brand.
Without a device to specifically measure RPM, a number of other techniques can work. One DIY method is to use a strobe light that can be adjusted to known values. Without any tools, the easiest way (though not always the most reliable) is to use a phone app that will strobe the light on the phone at specific rates to measure RPM.
The motor speed is really just a frequency and can be measured with a frequency meter and a sensor. In some cases a computer with a sound card and appropriate software could be used for this measurement in place of a frequency meter. The goal is to receive a set of pulses that count one revolution of the motor. Also required is a Hall effect sensor, optointerrupter or even just a microphone.
The Hall effect sensor works on a DC motor and uses the magnetic field changes of the motor to make its measurements. The optointerrupter has two sides; one is a light source and the other is a receiver.
A microphone is less accurate due to ambient and other motor noise. To use a microphone, place a piece of tape on the motor shaft and place something, such as a finger, so that the tape hits it once per revolution, thereby making a buzzing sound that is picked up by the mic. The output of one of these sensors is read as pulses. If you have a multimeter with a frequency counter the sensor can connect directly to that. An oscilloscope would also work.
For those who don't have either a computer with a sound card, a frequency counter or an oscilloscope, software that displays the waveform can be made to work as well. Study the waveform of one of these sensors and look for a train of pulses; measure the space between two pulses, which is the time it takes for one revolution. To determine how many revolutions occur in a minute, divide 60 by the time of one revolution. This simple calculation will give the RPM of the motor.
With one of the methods above, obtaining motor speed values with reasonable accuracy is quite possible.