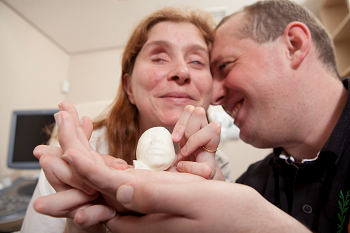 "When we touched the second model, with Davi's face, we realized his resemblance to us," said expectant mom Ana Paula. Source: Ana Paula and Alvaro Zermiani
Prospective parents anxiously await the first glimpse of their infant during ultrasound exams. A different technology came into play for one expectant but legally blind couple in São Paulo, Brazil. A physician in Rio de Janeiro used a 3D printer to develop lifelike models of the fetus, enabling the couple to "feel" their son.
Dr. Heron Werner, a gynecologist and obstetrician working at the DASA clinic in Rio de Janeiro, was inspired during a visit to Rio's National Museum. The facility was then using a tomography machine to digitize its ancient Egyptian exhibits. The idea to extend medical imaging technology to the printing of fetal models was…born.
The Voluson E10 ultrasound machine from GE is also the first ultrasound system in the OB/GYN field with built-in 3D-printing capability. Doctors can use it to help parents better understand congenital defects such as cleft lips, abnormal extremities or abdominal wall defects. The technology can also enhance discussions about surgical planning and serve as an educational tool.
"Holding the small fetus at 12 weeks is an indescribable feeling," she says. "Following up on our son's evolution allowed us to have this feeling of being whole, because we feel with our hands," said the expectant mother.