The 11th IEEE Nanotechnology Symposium took place on November 15 at SUNY Polytechnic Institute's Albany, N.Y. campus. This is an annual event, sponsored by the IEEE's Electron Devices Society, to introduce advances in semiconductor and nanotechnology, and to honor contributors to the field.
Two important keynote speakers from IBM Research presented topics they have been involved in.
Dr. Fausto Bernardini's presentation, "IBM Watson Health Enabling Computational Health in the Era of Big Data," introduced an overview of a new business unit called IBM Watson Health. It was created to provide solutions to healthcare and life sciences applications using cloud and big data technologies as well as advanced analytics and cognitive approaches.
According to IBM, this is an ideal time to unlock the extraordinary amount of available health data. IBM is analyzing this data to provide insights to "to empower leaders, advocates and influencers in health through support that helps them achieve remarkable outcomes, accelerate discovery, make essential connections and gain confidence on their path to solving the world's biggest health challenges," according to the IBM Watson Health website.
Dr. Bernardini explained during his presentation, "the amount and variety of data in healthcare is growing at a very rapid pace. By some estimates there are 150+ exabytes of data in healthcare today and doubling every 24 months! In addition to the data, the amount of knowledge in medicine available in the form of publications is doubling every 18 months."
"The most important challenge organizations are facing is how to cope with the increasing amounts of data and knowledge and how to derive insights that matter in making decisions across the healthcare and life sciences applications," Bernardini continued. "The era of Big Data in healthcare provides opportunities for applying computational methods for gleaning insights regarding effectiveness, practice patterns variations (practice-based evidence), prediction of adverse outcomes, adherence to suggested care regimens, behavior modification, and personalization of care to the individual needs."
IBM Watson Health is divided into several healthcare units, including:
IBM Watson for Drug Discovery: Helping researchers identify new and novel drug targets to uncover new ways to develop treatments.
IBM Watson for Oncology: Allows doctors to spend less time searching literature and more time treating patients by providing evidence-based treatment options from experts at Memorial Sloan Kettering (MSK).
IBM Watson Social Program Management: This division supports government agencies that deliver health and human services to the general population.
The second IBM researcher, Dr. Daniel C. Edelstein, presented the keynote speech titled "20 Years of Cu BEOL in Manufacturing, and its Future Prospects." The talk was a celebration of the anniversary when IBM — ahead of competitors — replaced their aluminum chip interconnects with copper ones.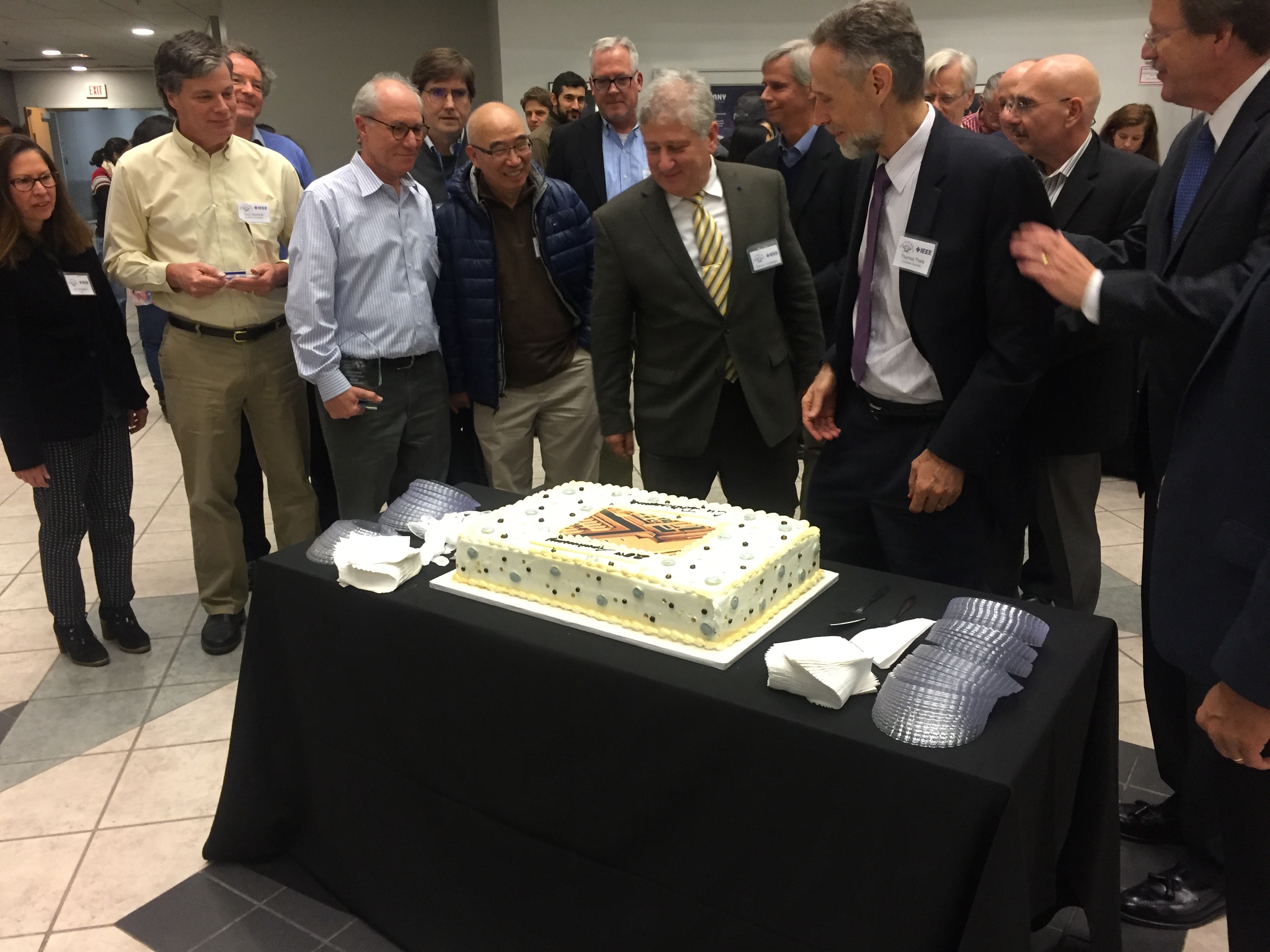 Dr. Edelstein celebrating 20 years of Cu interconnects. Source: Engineering360
"Copper dual damascene back-end of line (BEOL) technology has been in production now for 20 years and more than 7 CMOS generations, since it shipped in its first chips in late 1997, and was first ramped to high volume production in mid-1998. Besides benefits in performance and manufacturability, perhaps the main benefit has been to keep the door open for continued Moore's Law scaling of on-chip wiring, where Al(Cu)-based wires could not have extended — either for fine line current densities and reliability, or multilevel hierarchical scaling for large/thick lines to help circumvent the RC scaling crisis," explains Edelstein.
The moment described by Edelstein was a crucial one in the long-term development of the chip industry since the creation of the first transistor in 1947.
Aside from Dr. Edelstein, the symposium also recognized the following industry leaders who have made a contributions to the introduction of copper interconnects and other fields:
Mukesh Khare (Vice President, Semiconductor Technology Research, IBM)
Bahgat Sammakia (Interim President, SUNY Poly)
T.C. Chen (Vice President Science & Technology, IBM Fellow, IBM)
Bijan Davari (Vice President, Next Generation Computing Systems and Technology, IBM Fellow, IBM)
George Gomba (Vice President, Technology Research, GLOBALFOUNDRIES)
Thomas N. Theis (Executive Director, Columbia Nano Initiative, Columbia University)
Kang-ill Seo (Vice President, R & D, Samsung Semiconductor Inc.)