For the first time on the Top500 list, China is ranked as the country with the most supercomputers -- overtaking the United States by a margin of 202 to 143. That's the largest number of supercomputers China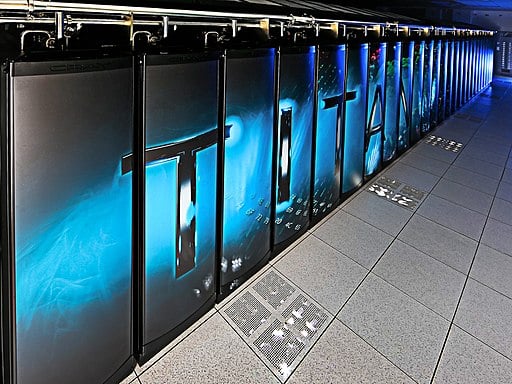 Titan, a five-year-old Cray XK7 system, is still the largest system in the United States.has had on the TOP500 ranking, and the United States' lowest total since the list debuted 25 years ago. Only six months prior, the United States topped the list with 169 systems, and China coming with 160.
In addition, China wins in overall performance. China led the pack with 35.3 percent of the total performance of systems on the Top 500 compared with 29.8 percent for second-place United States. The top five supercomputers are:
#1: Sunway TaihuLight, a system developed by China's National Research Center of Parallel Computer Engineering & Technology (NRCPC), and installed at the National Supercomputing Center in Wuxi, remains at the top spot for the fourth time, with a High Performance Linpack (HPL) mark of 93.01 petaflops.
#2: Tianhe-2 (Milky Way-2), a system developed by China's National University of Defense Technology and deployed at the National Supercomputer Center in Guangzho, China, maintains its position with 33.86 petaflops.
#3: Piz Daint, a Cray XC50 system installed at the Swiss National Supercomputing Centre in Lugano, Switzerland, continues in the third slot with 19.59 petaflops. Piz Daint was upgraded last year with NVIDIA Tesla P100 GPUs, which more than doubled its HPL performance to 19.6 petaflops.
#4: Gyoukou, a ZettaScaler-2.2 system deployed at Japan's Agency for Marine-Earth Science and Technology. Using PEZY-SC2 accelerators with conventional Intel Xeon processors, Gyoukou registered an HPL result of 19.14 petaflops.
#5: Titan, a five-year-old Cray XK7 system using NVIDIA K20x GPU accelerators and installed at the Department of Energy's Oak Ridge National Laboratory, is still the largest U.S. system. Titan slipped to the fifth position with 17.59 petaflops.