Researchers in China have demonstrated the use of a smartphone-compatible device as part of a pencil-like imaging spectrometer. The stand-alone, wireless detection unit weighs only 140 g, measures 3.1 cm in diameter and 15.5 cm in length and records spectral images of diverse objects.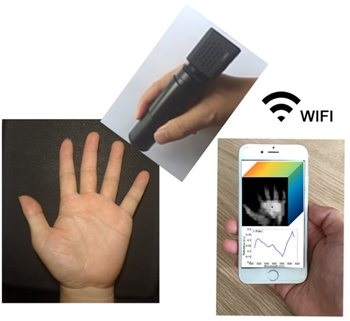 The pencil-like wireless spectrometer can be used with a smartphone to collect 3D spectral images of the body and other objects. This design could make the device useful for point-of-care diagnostics. Source: Dan Wang, Beijing University of Chemical TechnologyThe handheld spectrometer was applied to the analysis of chlorophyll in bananas and myoglobin in meat to gauge product freshness. Hemoglobin in human hands was also imaged as an indicator of oxygen saturation in blood. The detected spectral range is 400-675 nm using a white LED array lamp as the light source.
The new spectrometer uses a commercially-available, complementary, metal-oxide-semiconductor camera that wirelessly transmits images to a smartphone. The use of off-the-shelf components brings the cost of the device under $300.
The pencil-like spectrometer is deployed by moving it across the target area by hand, and this manual push-broom scanning process accumulates a series of spectral images that are sent to a smartphone or computer where software stitches the spectral images together into a 3D spectral image data cube.
The compact imaging spectrometer could also be used for environmental monitoring.
"We're developing distributed spectral cameras that could be used for a wide range of ocean surveys, such as detecting dissolved organic matter in water or pigments that indicate early signs of harmful algal blooms," said Fuhong Cai of Hainan University. "Since the imaging spectrometer can connect to any type of camera, we are also examining the idea of attaching it to the camera of an autonomous vehicle to create a remote ocean sensing system."
The researchers plan to realize significant spectral resolution improvements in the future by using an improved camera with a long focal length lens. The current prototype can only resolve wavelengths that differ by at least 17 nm.
Scientists from Beijing University of Chemical Technology and Zhejiang University also participated in this research.