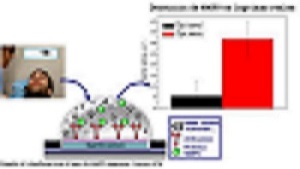 Source: Universidad Politécnica de Madrid
A point-of-care optical reading device engineered at Universidad Politécnica de Madrid enables rapid in vitro detection of biological materials at very low concentrations. An initial application appears to be dry eye diagnosis by analysis of a patient's tears.
The symptoms of dry eye syndrome, which include eye irritation, redness and fatigue, can be confused with other ocular pathologies. The new technique enables early diagnosis of this condition by analyzing protein biomarkers in tears.
The compact optical biochip, based on a thin layer-sensing surface of nitrocellulose, is designed for in-situ label-free detection of metalloproteinase related to dry eye disease. Specific antibodies can be immobilized onto different interferometric transducers with a very small sample volume. The portable system measures changes in optical properties when biological materials are added.
The device might be applied to the detection of other eye diseases or extended to other uses in the agriculture and food industries.