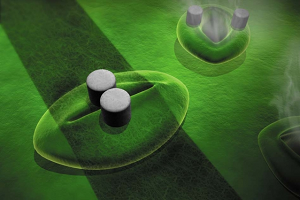 Artist's impression of the sensor comprised of conductive ink printed across a stoma with two micropillars. Source: Betsy SkripAgricultural crops, as well as humble houseplants, could one day signal the need for watering or even predict pending drought conditions. Sensors printed onto leaves can give plants the ability to "communicate" when water stress is occurring.
The sensors engineered at the Massachusetts Institute of Technology track the opening and closing of a plant's stomata — small pores in the surface of a leaf that allow water to evaporate. As water evaporates from the leaf, water pressure in the plant declines and allows it to extract more from the soil via transpiration.
An ink formed by dissolving carbon nanotubes into sodium dodecyl sulfate, which does not adversely impact stomata, is printed across a pore to create an electronic circuit. The circuit is intact when the pore is closed and current is measured by linking the circuit to a multimeter. The circuit is broken and the current ceases when the pore opens, allowing for precise measurement of when a single pore is open or closed.
The sensors were applied to the peace lily, which features large stomata, using a printing mold with a microfluidic channel. The researchers then measured opening and closing trends over a few days under both normal and dry conditions. This monitoring activity enabled detection within two days of a plant undergoing water stress. Stomata require about seven minutes to open after light exposure and 53 minutes to close when darkness falls, but these responses change during dry conditions. When deprived of water, stomata take an average of 25 minutes to open, while the amount of time for the stomata to close falls to 45 minutes.
Efforts are now underway to apply electronic circuits by simply placing a sticker on the leaf surface.