A group of engineering undergraduates at McMaster University in Canada has won the International James Dyson Award 2017 for their low-cost and non-invasive melanoma detection device.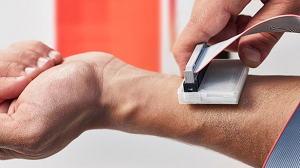 A device designed to quickly and easily detect melanomas has won this year's international James Dyson Award. Source: James Dyson AwardsThe sKan diagnostic exploits the fact that, after rapid cooling of the skin, cancerous tissue regains heat at a faster rate than normal tissue. The design team incorporated temperature-sensitive resistors to detect melanoma. When placed on a lesion, the thermistors produce a thermal map of the area as skin warms back up to normal temperature. The resulting heat map and temperature difference time plot are displayed on a computer for analysis.
Available non-invasive thermal imaging techniques for melanoma diagnosis are expensive, or rely on a not-always-accurate visual inspection conducted by physicians. The commercial version of the sKan is expected to cost less than $1,000, and the technology is readily accessible.
The team plans to use the $40,000 prize money to fine-tune their design in preparation for device approval by the U.S. Food and Drug Administration.