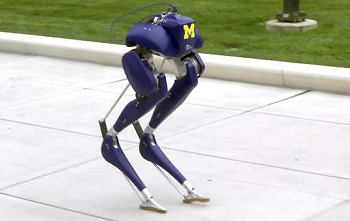 Cassie walks on the campus of the University of Michigan in Ann Arbor, Michigan. Researchers say the two-legged, bird-like machine, which is capable of walking unassisted on rough and uneven terrain, could someday have applications for search and rescue efforts. Source: AP Photo/Mike Householder
Cassie recently arrived at the University of Michigan and is likely now strutting around the Ann Arbor campus. The bipedal robot built by Agility Robotics (Albany, Oregon) and purchased by the university walks unassisted on rough and uneven terrain.
The 66 pound (29.94 kilogram), 3.25 foot (1 meter) robot is being field-tested and fine-tuned by Michigan Robotics program researchers. Cassie — whose name is derived from the cassowary, a flightless bird similar to an ostrich — is expected to advance robotics technology for search and rescue applications. More immediate uses might include inspection of industrial sites while taking 3D scans.
The biped stands upright on legs, each with five motors, with backward-facing knees. The current iteration uses a battery that supplies four hours of walking activity. Two computers provide for very fast signal processing, and the researchers plan to develop computer vision algorithms to enable faster and more dynamic movement.