The bulky, expensive ultrasound equipment used in virtually every hospital and clinic may soon go the way of the dodo and the rotary phone. A handheld ultrasound-on-a-chip system is expected to herald a new era in affordable, portable and high-performance medical imaging.
The Butterfly iQ® for iPhone consists of a portable transducer that connects directly to an iPhone and works in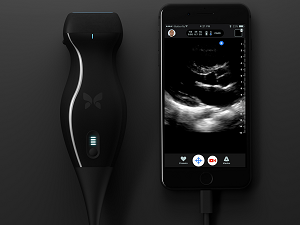 The Butterfly iQ portable ultrasound system works with the user's iPhone. Source: Butterfly Networkconcert with an iOS app to display images and to control settings. The device functions as three different transducers thanks to an ultra-wide band matrix array, enabling a clinician to perform different scans and for the Butterfly iQ to be applicable in different clinical settings.
Butterfly Network (Guilford, Conn.) was recently awarded U.S. Food and Drug Administration clearance for the system, which covers 13 clinical applications — the broadest ever for a single ultrasound transducer. The developers directly integrated a matrix array of microelectromechanical (MEMS) sensors onto an integrated circuit that contains all the necessary electronics. Combined with artificial intelligence for both image acquisition and analysis, this tight integration delivers a fast, high-resolution device comparable in function to full size ultrasound machines.
Watch a demo of the Butterfly IQ handheld ultrasound tool and delve into its underlying technology at IEEE Spectrum.