Engineers need to absorb both practical information and abstract concepts in a very digestible manner. That's why Texas Instruments' Bob Mammano, the inventor of the first integrated circuit [IC] designed for switch-mode power-supply control, put together a book of power-supply fundamentals.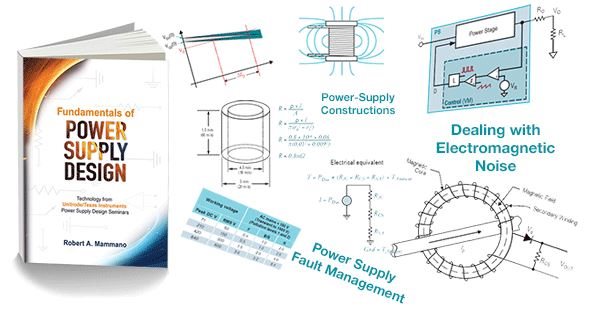 Source: Texas Instruments
Bob Mammano has been recognized as a pioneer in the power electronics field with more than 50 years of experience in analog power control. He has also been called "the father of the PWM controller industry," resulting from his design of the first fully integrated PWM controller IC, the SG1524 in 1974.
The book, Fundamentals of Power Supply Design, lays the foundation of the basic elements of switching power-supply design and then expands to include subjects of more advanced design and newer topologies. TI and Mammano hope that it will benefit both young engineers entering the power-supply field as well as offering a trove of ideas for experienced designers seeking references on specific subjects.
The 331-page book, filled with 81,595 words on the topic, references 58 seminar topics and hundreds of figures and equations. It dives into the wealth of knowledge that has been built over the last 40 years and aims to assist students, a newly-minted engineer entering the field of power electronics, salespeople in need of understanding their customer's needs or a seasoned power supply designer desiring to track down a forgotten equation.
Where material from specific seminar topics has been incorporated into this book, a listing of the original seminar document is included at the end of each chapter. This listing will give the individual publication number for each reference, which can then be accessed at www.ti.com/lit/slupxxx, where "xxx" is the slip number provided with each reference.
The book starts off with the basics of switch-mode power-supply design then expands into more advanced topics like topology selection, control algorithms and power-supply construction. As an added value, some of TI's power systems engineers reviewed Mammano's writing and also ensured that the material was up to the high standards expected of a book of this nature.
A look at the Table of Contents: